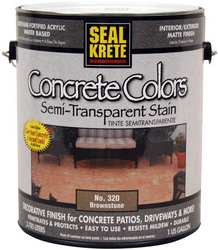 Like all SEAL-KRETE products, Concrete Colors have a high-solids content to add protection with your beautiful finish. You don't get that with any other stain
St. Louis, MO (PRWEB) August 15, 2007
Convenience Products, maker of SEAL-KRETE brand products, introduces new Concrete Colors semi-transparent stains for concrete surfaces. SEAL-KRETE Concrete Colors are available in four (4) pre-mixed colors, a tint base, and a clear low-lustre sealer. A range of 30 colors is available with base tinting. Concrete Colors were developed to provide a premium decorative finish and exceptional protection to bare horizontal or vertical concrete surfaces. A 20% solids content means Concrete Colors is durable, long-wearing, resistant to stains, oil, gas, salt and chloride, and extends the life of concrete surfaces. Concrete Colors penetrate deeply into concrete surfaces, and depending on the porosity, can be applied to achieve a variety of different looks. Adding a topcoat or sealer will add gloss, without it Concrete Colors stays low-lustre for an aged look.
"There are a number of concrete stains available now, but none that offer the simplicity, the range of looks, and the strength and protection that comes with SEAL-KRETE Concrete Colors," says Tim Franklin, Product Development Manager for Seal-Krete. "Like all SEAL-KRETE products, Concrete Colors have a high-solids content to add protection with your beautiful finish. You don't get that with any other stain," says Franklin. Larry Pennock, Vice President of Sales and Marketing says, "These products are just so easy to use. You can use sprayers, rollers, brushes, a mix of colors - even stencils, and still get a great finish. Not many other stains actually increase the life of the concrete," says Pennock. "These products represent an easy-to-apply system for the DIY audience as well as the emerging DIFM customer. We want to make it simple, and we have."
SEAL-KRETE Concrete Colors are water-based, low odor, with 20% solids and less than 100 grams VOC per liter. The line is available nationwide in one and five gallon containers. Seal-Krete is a Convenience Products' brand, a division of Clayton Corporation, headquartered in St. Louis, Missouri. For more information, please visit http://www.seal-krete.com.
For Information:
Staci Rohn
Marketing Communications Manager
636) 717-2863
srohn @ convenienceproducts.com
or
Tim Franklin
V.P. Research & Development
(863) 867-1535, ext. 541
tfranklin @ seal-krete.com
###