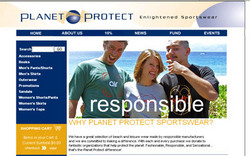 We are incredibly excited to have Earth Share of Oregon as our fundraising partner
Lake Oswego, OR (PRWEB) August 16, 2007
In a newly established fundraising partnership, the new clothing company Planet Protect Sportswear, based in Lake Oswego, Oregon, has finalized an affiliation with Earth Share of Oregon to create an ongoing fundraising partnership. Planet Protect customers will have a choice during the checkout process to designate ten percent of their total purchase to be donated to Earth Share, which represents 67 environmental charities.
Established in 2006, Planet Protect Sportswear was created to offer clothing to consumers looking for products made by responsible companies. A majority of the clothing options come from organic sources and other options from companies working hard to minimize their eco-footprint.
"We are incredibly excited to have Earth Share of Oregon as our fundraising partner," said Jim Beriault, founder of Planet Protect Sportswear. "When you choose Earth Share of Oregon during checkout on our website we will make a corporate donation of 10% based on your total purchase to help nearly 70 nonprofit organizations around the country and in my home, the Northwest."
"We are proud to be a recipient of Planet Protect's generosity," said Trudy Toliver, Earth Share of Oregon's Executive Director. "The fact that they are a local company selling sustainable clothing is a perfect match for our conservation groups and our community of donors. We also appreciate how the company values philanthropy and shares our goals to reduce global warming and preserve nature."
Planet Protect Sportswear's popular beachwear includes originally designed t-shirt series, like the Ancient Earth Series, featuring art from West African Adrinka symbols; and the Elements of Life Series, highlighting earth, air and water symbols. The Sea Life Series features endangered or beloved animals. "We constantly seek great art to feature on our shirts. Cutting edge design makes a statement. It is also our goal to have 100% sustainable products by 2010--a challenge worth pursuing," noted Beriault. Planet Protect's shop also carries shorts, skirts, tops, and sandals, as well as books about environmental issues.
Donations made by Planet Protect Sportswear are based on the total purchase price (excluding shipping and handling charges). This donation comes from Planet Protect's gross profit as a company and is not tax deductible on the part of the customer. To learn more, or view some of the unique designs, visit PlanetProtect.com.
About Planet Protect Sportswear:
Planet Protect Sportswear is based in Lake Oswego, Oregon. The company is dedicated to making a difference with each and every purchase made by customers. Featuring beachwear and leisurewear made from a mix of sustainable and natural fibers and companies working hard to minimize their eco-footprint during this time of change and awareness.
###