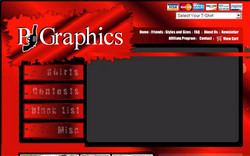 Say what you mean, wear what you say
Reno, NV (PRWEB) August 16, 2007
With a motto of "Say what you mean, wear what you say," PIGraphics.net announces the grand opening of their e-commerce website. The site's products are all unique designs, offering funny political t-shirt options in response to today's politically correct times. The company will celebrate their grand opening by offering a special buy one get one free offer on any of their current shirt designs.
The genesis of the idea for the company came in 1994, at the height of the political correctness craze. Only now, though, with the ease of use provided by the World Wide Web, has PIGraphics.net gotten off the ground. While some might find some of the company's designs offensive, t-shirts from PIGraphics.net offer a perspective not often shown in today's humor environment. The satire here is pro-military, anti-gun control, and completely irreverent to the politically correct concerns normally put forward by media elites.
"We were way ahead of our time, getting the message out that being PC was just a bunch of crap," said company co-owner and co-founder Joe Smith, about the first attempt to launch the business in 1994. "Now, all these years later, we had a spark of inspiration and brought the company back to life with the help of fresh, young, and intelligent minds, with bigger and better ideas." The company's funny political t-shirt designs are printed on only the highest quality brands, including Anvil, Gildan and American Apparel.
Just a few of the (to some) offensive t-shirts available for purchase at PIGraphics.net are "Get in the Van, I Have Candy," and "Man's Best Friend," which replaces the normal, expected dog picture with one of a cold-steel revolver.
"We are all for making people laugh at the current state of society," Smith added.
Along with the grand opening buy one get one free special, the site also offers a couple of contests. Customers can send in photos of themselves wearing shirts from the site, and the winner will receive a free shirt and his or her picture on the homepage. Another contest allows for people to submit their own t-shirt designs, which will be voted on by visitors to the site.
To visit the newly opened site, or to view the funny political t-shirt options, visit PIGraphics.net.
About PIGraphics.net:
PIGraphics.net is the web's latest provider of politically correct, offensive, and humorous t-shirts, targeted towards smart younger people angry with today's climate of political correctness. The company also offers visitors chances to win shirts through contests, including creating unique t-shirt designs.
###