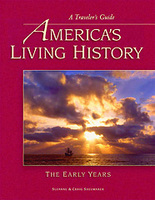 Sit a kid in front of a TV documentary about the first English people in America, and see how easily he or she is distracted. Now go to Virginia and turn that same kid loose to explore the re-created 1607 Jamestown Settlement. Chances are, you'll bring home much more than souvenirs
Jackson, CA (PRWEB) August 16, 2007 -
Have you noticed how much 'leisure travel' has changed over the years? What many of us have viewed as a get-away from the daily grind has been evolving into an opportunity for fulfilling individual goals and objectives. Travelers want to be excited, challenged, educated, stimulated. And after the trip is over, they want to feel as though they've gained something of lasting value - such as increased knowledge and personal growth - along with great photos and happy memories.
Interestingly, history-oriented tourism - defined as travel to places that celebrate a people's heritage or historic identity - is one of the fastest growing forms of leisure travel in the U.S., according to a report published by the National Recreation and Park Association. Whereas history was once considered 'boring,' America's past now offers a dynamic, real-world opportunity to come in touch with our roots, as a people and as a nation.
"History travelers do more than see important places. They also learn through interpretive programs how our ancestors lived, worked and enjoyed life without any of our modern necessities. And, in the end, they see both America's past and present through very different eyes," notes Suzanne Sheumaker, co-author of the highly praised new history-travel guide 'America's Living History-The Early Years.'
The benefits of history travel can be startling. "Sit a kid in front of a TV documentary about the first English people in America, and see how easily he or she is distracted. Now go to Virginia and turn that same kid loose to explore the re-created 1607 Jamestown Settlement. Chances are, you'll bring home much more than souvenirs," says co-author Craig Sheumaker.
If you've been to Jamestown and are looking for something different this year, the Sheumakers have an intriguing suggestion: a Southwest trip with a history twist. Using the book 'America's Living History-The Early Years' as a guide, they have created an unusual and exciting itinerary for their new travel article, 'In The Spotlight: Southwest Road Trip.' Their itinerary has something for all ages - from school kids and grads to career couples and retired baby boomers. It is especially good right now for retired folks traveling in an RV or families who are home schooling their children. You can download the itinerary free on the website AmericasLivingHistory.com
This easy-driving Southwest trip comfortably fits into a two-to-three week schedule if you haven't time for a more leisurely pace. And yet, it enables you to enjoy three World Heritage Sites, four National Monuments, two to four National Parks (depending on whether you take the side trips), two Pueblos where Native Peoples still live the old ways, a tram ride to spectacular mountain views, an interesting group of Native American and Spanish Colonial landmarks and museum sites, tours in the spectacularly beautiful Navajo land, and a premier living history museum where early America comes to life.
About the Authors
Suzanne and Craig Sheumaker are history-travel experts who have explored more than 125,000 miles of the U.S. by car and RV. They created the new guidebook 'America's Living History-The Early Years' to bring together in one place historical and tourist information about destinations that recall America's most formative years - the time before the 1840s westward movement. The colorful 224-page book is receiving high praise for its unique approach to both U.S. history and U.S. travel. With insightful text and 500 destination photographs, it enables readers to page through America's early years chronologically - from a land occupied by Native Peoples, to the formation of a new nation, to the initial stages of westward expansion. Along the way, readers discover a wealth of exciting places that can be enjoyed today. Regional maps and tourist information make travel planning easy for those who want to see these attractions in person.
'America's Living History-The Early Years' was released in May 2007 by Red Corral Publishing and is available wherever travel books are sold, including Amazon.com, BarnesAndNoble.com and other online bookstores. Autographed books, gift-wrapped free upon request, are available direct from the authors via http://www.AmericasLivingHistory.com ISBN: 978-0-9792598-0-7
Contact:
Red Corral Publishing
Suzanne Sheumaker
209-295-5582
###