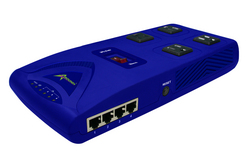 This kind of 'outside the box' creativity is no strange to me.
Nashua, NH (PRWEB) August 16, 2007
Aboundi Inc. today announced the release of its APL4200 series UPS-able Quad Power Line NetBridge™ products, which offers commercial and business users the confidence and reliability for running their Ethernet data over the everyday AC power lines within the premises.
Aboundi has incorporated advanced patent pending technology that allows the Plug and Play simplicity with continuous networking connectivity resilience even during power outage by utilizing the existing Uninterrupted Power Supply (UPS) system to facilitate network powering support. It is designed specifically for small cluster networking applications and can be very easily reallocated without the need to rewire "home run" Ethernet drops to such cluster group locations with uninterruptible network operational reliability.
The APL4200 Quad NetBridge™ provides four shielded MDI/MDIX RJ45 auto-detect Ethernet ports that can be connected to any 10/100 Mbps Ethernet ports on PCs and other peripheral devices such as Point of Service (POS), IP cameras, monitors, serial control servers and etc. It comes with four high surge (1750 Joules per port) protected power outlets and also has a 10 Ampere over current circuit short protect that will protect both attached equipment and the UPS source.
"We have broken the market myth regarding the inability to conduct customary networking applications using the existing AC power line infrastructure for commercial business applications where business continuity demands 24x7 connectivity reliability!" stated Hong Yu, President and CEO of Aboundi Inc. "This kind of 'outside the box' creativity is no strange to me." Yu is a serial entrepreneur and was named "Entrepreneur of the Year" by the New Hampshire High Technology Council in 1998.
"The APL4200 Quad NetBridge device have proven its interoperability in conjunction with our POS products with UPS implementations," commented Mr. M. Z. Chen, Vice President of Posiflex Inc. "Although we have not yet tested the product in a larger system wide implementation, it certainly will achieve its performance expectation in the Small to Medium sized Businesses (SMB) POS applications," continued Mr. Chen.
The commercial quality APL4200 series product comes with either 85Mbps or 200Mbps speed and is touted for Q3, 2007 availability. The MSRP for the APL4200-100 series (85Mbps) is $349.95 and the APL4200-200 series (200Mbps) is $399.95.
About Posiflex USA
Since 1984, Posiflex has become a leading provider of Point-of-Service (POS) terminals and related technology. In partnership with software applications companies, Posiflex products are sold through worldwide VAR's and distributors to the hospitality, healthcare, medical, retail and specialized markets. For product information, visit http://www.posiflexusa.com or call (510) 429-7097.
About Aboundi Inc.
Aboundi Inc. is the leader in providing innovative commercial quality products utilizing the existing power line infrastructure to enable ubiquitous triple play Small to Medium sized Business (SMB) networking solutions. Aboundi sells products worldwide through its authorized Distributors and Solution Partners. For Electric Connect infrastructure solution product information, visit http://www.electric-connect.com or call (603)889-8188.
PR Contact:
marketing @ aboundi.com
+1-603-889-8188
# # #