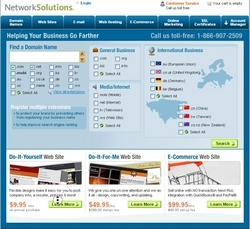 An SSL Certificate is an absolute 'must' for any online business dealing with sensitive information
Herndon, VA (PRWEB) August 20, 2007 -
In an effort to keep online business owners up to speed on the importance of Web site security, Network Solutions® has released a whitepaper titled SSL Certificates: A Simple Solution to Web Site Security. Without a valid SSL certificate protecting their Web site, online business owners run the risk of exposing sensitive customer information such as credit card numbers, social security numbers or passwords to identity thieves. An SSL certificate safeguards the customer's information from outside observation or interception by encrypting it. Protecting the exchange of personal information between the customer and the owner's business makes customers more comfortable transacting business with the owner, ultimately leading to higher sales conversations.
This whitepaper helps shed light on the key facts and considerations that a small business owner should keep in mind both when using an SSL certificate and choosing between SSL certificate providers. Many online business owners need to learn everything about SSL certificates ranging from what an SSL is and how it works to the benefits of using SSL certificates. Network Solutions realizes that knowing the answers to these questions is vital to the success of any online business, and wants to ensure that they make using an SSL Certificate simple and affordable for all Web sites.
In addition to explaining the purpose and benefits of an SSL certificate, this whitepaper also focuses on different types of SSL certificates, the visual indicators that the new EV certificate uses to identify a secure site, and how to obtain a security certificate from SSL certificate providers. This whitepaper is especially helpful for those just learning how to take their business online securely.
"An SSL Certificate is an absolute 'must' for any online business dealing with sensitive information," said Jeff Grosman, Network Solutions Senior Vice President of Product Marketing and Management. "Network Solutions wants to ensure that all of our customers and all interested small businesses are as educated as possible on why an SSL Certificate is important for their business, as well as which type of SSL is best for them."
More answers to the "Why use SSL certificates?" question can be found by downloading "SSL Certificates: A Simple Solution to Web Site Security." The Network Solutions suite of SiteSafe™ SSL products, including the new Extended Validation Certificate, is also available at NetworkSolutions.com.
About Network Solutions:
With 28 years in the web services industry, Network Solutions has long been one of the top SSL certificate providers. The company also provides a range of other products, including domain registration, e-commerce, website design, online marketing and secure website hosting. Network Solutions is committed to helping business owners establish and enhance their online presence through cutting edge solutions and excellent customer service.
###