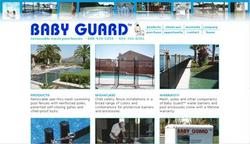 Fort Lauderdale, FL (PRWEB) August 20, 2007
Accidental drowning is the leading cause of death among children ages one to four in the United States. It is crucial for pool owners and retailers to address child pool safety and initiate preventative measures to ensure and safeguard the wellbeing of unattended children, pets, and elderly. To help further promote water protection, Baby Guard Pool Fence Company, a leading pool safety fence manufacturer, announces the opening of its factory direct offices throughout California.
Known for safety and quality, Baby Guard has been producing removable pool fences since 1989. Exceeding the National Safety Council guidelines, Baby Guard's swimming pool safety fence is a consistently effective solution to providing a barrier against drowning. Baby Guard's pool fences are a durable and reliable year-round form of a safety net.
Baby Guard Pool Fence Company President and CEO, Michael Schatzberg, explains, "By selecting a Baby Guard swimming pool safety fence, you are investing in your child or grandchild's safety by simply adding the barrier you need to prevent accidental drowning in swimming pools. With over 500,000 fences installed, you can be assured that your child and pool are completely safe."
Baby Guard Pool Fence offers factory direct pricing and professional installation on all child safety fencing for swimming pools. As one of the strongest and safest pool fences available, Baby Guard's complete collection has excellent options and features. Specially engineered for pools and with premium, rip-proof, interlock mesh, the fence has added durability and won't fade or shrink. Other great swimming pool safety fence features include non-corrosive, reinforced poles, child-proof locks, stainless steel latches, and Baby Guard's patented self-closing gate.
Schatzberg describes additional features, "Our child pool safety fences are designed to fit any backyard or budget. We have several options of fences and with a multitude of colors your lifesaving fence will not only match your yard, but look attractive."
Promoting child care, health, and safety, Baby Guard's website is full of home and water safety information. The educational value of the site is just another great Baby Guard feature and benefit.
To receive a free in-home safety evaluation for swimming pools or learn more about child water safety, please contact BabyGuardFence.com.
About Baby Guard Pool Fence Company
As a strong advocate of child care and safety, President and CEO of Baby Guard Pool Fence Company, Michael Schatzberg, is considered by the American Red Cross to be an expert in the field of drowning protection. Since 1989, Baby Guard has been consistently keeping the guard up and saving children's lives with removable pool fences. Baby Guard is committed to exceeding safety standards to ensure the protection of children's lives.
###