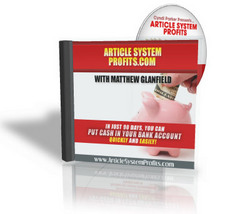 Step up to the plate
Fort Walton Beach, FL (PRWEB) August 21, 2007
Internet Marketer Cyndi Parker (http://www.ArticleSystemProfits.com) has just released a product to help Newbies and other marketers understand the system on how to use Article Marketing.
Cyndi says, "What I never understood for so long is that if you just work a certain system with Articles and Affiliate products, then your success unfolds right in your lap!" So she decided to take a risk and write some of these so called "Internet Marketing Gurus" and ask them to "Step up to the plate" and explain the process!"
Much to her surprise, people wrote back and said, "Sure Cyndi, I would be glad to let you interview me!" Most "Newbies" would never think that is possible….. but it is!
A lot of people make money at Affiliate Marketing (selling other peoples products). Some make a full time living doing it, and others a part-time income.
Yet others seem not to be able to make a dime doing it. So she knew she needed to go to some internet marketing experts and let them explain how affiliate marketing works using Articles. She wanted them to tell her why some people use Articles to promote their products, and why others have no idea how in the world to market that way!
So Cyndi interviewed 3 extremely successful internet marketers about this subject: Matthew Glanfield, Rosiland Gardner and Ed Forteau. If you are not familiar with them, you can easily find lots of information on these names by typing each name in Google.
Each interview is jam-packed with insider techniques from the Experts. Revealed is how each one of them has their own system in which they tap into their own niche market. This brings them more leads, causing them to sell more products and explode their internet sales. This is what successful Internet Marketers do.
Along with each powerful interview, Cyndi also provides the consumer with all the transcripts, mp3 files, and has even added 3 extra audios of her own experiences and techniques for Affiliate Marketing and Article Writing.
She says, "I just want to do for others what I always wanted someone to do for me." She explains that it is very confusing when you are a newbie. Nothing is easy and you can't find anybody to help explain it to you! She wanted to make a difference.
So besides her interviews with the Experts, which will lay out a system for the Newbie, she also will be meeting once a week with her customers by phone to have group meetings and answer any questions they may have.
Her website offers something she always wanted to find, "A real person there to help." So what Cyndi has done is... she is actually giving her customers her "personal cell phone" so they can call her anytime at no additional cost.
"A real live person who cares, that is all a Newbie wants," Cyndi says. "Someone that will take them by the hand and show the step by step process in Article Marketing so they can understand the system and work towards their personal goals. I may be busy, but at least my customers will know they came to someone they can count on and trust!"
# # #