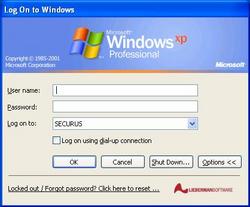 Previously, someone locked out of a system had to go to another machine or call the Help Desk to unlock the account
Los Angeles, CA (PRWEB) August 20, 2007
Lieberman Software's Account Reset Console™ 4.50 provides users with the ability to securely unlock their own accounts without involving IT staff or the Help Desk. The new version of Account Reset Console is the first password reset solution that can interface with the Microsoft Windows Vista Credential Providers, allowing it to support both Windows Vista and the latest beta versions of Windows Server 2008.
Account Reset Console users who now find themselves locked out of their systems can access the Windows logon page (CTRL+ALT+DEL) and click the integrated "Reset Password/Unlock" link. Users then respond to a set of previously established verification questions to prove their identities and unlock their accounts. Delegated users can also reset their own passwords via a secure web site accessible from any machine.
"Previously, someone locked out of a system had to go to another machine or call the Help Desk to unlock the account," said Chris Stoneff, Product Manager at Lieberman Software. "Now that Account Reset Console lets users unlock their own accounts, there's less of a burden on IT to perform this task. By freeing up administrators to engage in more strategic initiatives and by reducing the downtime of users who cannot access their systems, Account Reset Console helps reduce the TCO of the Windows infrastructure."
Secure Password Reset Policy
Account Reset Console strengthens enterprise security by enabling a strict and secure password reset regimen. Users are enrolled in the solution by answering administrator-defined identity verification questions, or by having the answers pre-populated from existing Active Directory or Human Resources databases. A report can be generated to determine which users have not yet enrolled, allowing IT to ensure full participation in the program.
According to Microsoft, 45% of the calls to the Help Desk are password reset requests.1 By permitting delegated users to reset their own passwords or unlock their own accounts, Account Reset Console helps maintain high productivity levels. End-users do not lose access to critical systems for extended periods of time, and organizations can reduce dependency on 7/24 Help Desk requirements.
"Account Reset Console makes it considerably easier for us to manage the servers and workstations in our enterprise," said Darren Erutti, LAN Administrator at MiTek Inc. "We never have to worry about passwords. Whenever we're locked out of a machine we can rely on this product to quickly provide a password that will grant us access. And the amount of free support and training that I've received from Lieberman Software, along with the frequent product updates, is definitely above and beyond my expectations."
With a series of scheduled and on-demand reports, Account Reset Console also enhances an organization's existing oversight control measures and helps maintain compliance with Sarbanes-Oxley, HIPAA, PCI, and other regulatory standards. It creates a full audit trail of password changes and can identify and close potential security breaches by automatically disabling accounts that are no longer in use.
In addition to its support for Windows Vista and Server 2008, Account Reset Console is compatible with Windows NT/2000/XP/Server 2003, as well as mobile devices such as Microsoft Pocket PC and other PDAs. The product uses Microsoft SQL Server as its core database, although SQL Server Express can also be utilized.
Pricing and Licensing
Account Reset Console 4.50 is available now and licensed by managed user. Pricing begins at $6.00 per user account, with a minimum of 100 users. Upgrades and unlimited support are provided for one year. Special academic, qualified charity, and GSA discounts are available. A free evaluation version of the product is available at http://www.liebsoft.com/Account_Reset_Console_Download/. The evaluation allows for the management of up to 100 users for 30 days, with free installation and operating support.
About Lieberman Software Corporation
Lieberman Software Corporation provides advanced security and systems management solutions that reduce the cost and complexity of administering the enterprise. By automating time intensive systems maintenance tasks, Lieberman Software increases control over the IT infrastructure, delivering improved productivity, performance, and audit-ready security. With products that simultaneously administer thousands of systems from a single console, Lieberman Software ensures that even the largest corporate, educational, and government enterprises remain managed, secure, and compliant. The company is a Microsoft Gold Certified Partner headquartered in Los Angeles, CA. For more information, please visit http://www.liebsoft.com.
Product and company names herein may be trademarks of their registered owners.
(1) Microsoft TechNet, "Password Management", M. Baladi, D. Mowers, A. Steven, P. Verwold, June 2006
For more information, please contact:
Kevin Franks
Marketing Communications Manager
Lieberman Software Corporation
1-800-829-6263
310.300.3562
http://www.liebsoft.com
kfranks @ liebsoft.com
###