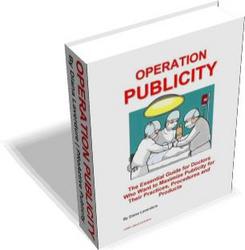 Operation Publicity: The Essential Guide for Doctors Who Want to Maximize Publicity for Their Practices, Procedures and Products
Boca Raton, FL (PRWEB) August 21, 2007
Cosmetic surgeons, chiropractors, acupuncturists, orthopaedic surgeons, holistic practitioners and many other medical professionals now rely exclusively or heavily on a private-pay formula for their practices. In order for these doctors to grow their private-pay practices, it is essential that they attract a steady stream of qualified patients.
According to Diana Laverdure, author of the brand new publicity system geared for private-pay doctors titled "Operation Publicity: The Essential Guide for Doctors Who Want to Maximize Publicity for Their Practices, Procedures and Products" (http://www.operationpublicity.com)], "qualified" patients are described as those who:

Have a desire to look and feel their best
Understand how their doctor can help them fulfill that desire
Have the financial resources to make their desires a reality.
"The single most effective way to reach these types of qualified patients, educate them and influence them is through media publicity," says Laverdure, vice president of Boca Raton, Florida-based Reeves Laverdure Public Relations, Inc., whose medical clients appear in media ranging from CNN and Good Morning America to The Today Show, Telemundo, The New York Times and Newsweek.
"By following the steps outlined in Operation Publicity, doctors in any medical discipline will have clear, easy-to-follow strategies to attract the qualified patients they want through TV, print, radio and Internet publicity," says Laverdure.
To immediately begin generating media publicity, she suggests doctors follow these seven steps:
Step 1: Identify you're "unique selling proposition."
Your "unique selling proposition" (USP) is that element of your practice that differentiates you from your competitors. Are you the first in your area to offer a new no-downtime wrinkle-reducing treatment? Or have you developed a new surgical technique? By identifying your USP you will also be identifying potential story angles.
Step 2: Know your journalists.
There's nothing reporters dislike more than being pitched on story angles inappropriate to their beat. Obviously, you'll want to identify the medical/health reporters at your major newspapers, but even within this niche different journalists can cover different angles, including medical business, the health care industry and science. Many local TV news shows also have medical/health reporters, but some do not. Tune in to see which on-air personnel are covering health issues and try to contact them directly. Also, don't lock yourself into just health reporters. Some story angles are just as well suited for lifestyle, feature or even business journalists. Think out of the box and you will expand your opportunities.
Step 3: Once you've identified the proper journalists, establish rapport with them.
The best way to do this is to become a font of information. With continual budget cuts and scaling back at many local newspapers and TV stations, reporters are being asked to do more with less. That means that anyone who can make their lives easier will get their attention. Send them an e-mail with a brief bio and an introductory cover letter stating that you would be happy to serve as an expert source for any stories they are doing related to your practice area. This will get you in their files for future reference, even if there is not an immediate opportunity.
Step 4: Be newsworthy, not self-serving.
The reason that most publicity efforts fall flat is because the person trying to generate the publicity is thinking of their own needs rather than those of their audience. To be effective at garnering media coverage, you must first ask yourself if the story you are proposing is of interest to anyone but you. Remember, the media's job is to provide news, not to give you free coverage. But if you can provide stories that are timely and interesting, they will have no problem giving you your time in the spotlight.
Step 5: Give them a neat and tidy story package.
An important element of enticing reporters to cover your story is to minimize their work by offering them everything they will need. TV reporters, for example, will need to film a live procedure for use as B-roll. They will also want to film a patient who has already had the procedure, so they can get a clear before-and-after comparison. For newspapers, good quality before-and-after photos will work. Also, both print and TV will want at least one patient who is willing to be interviewed. Make a point of telling the reporter that you can deliver all of these story elements and you will be much closer to eliciting a "yes" response.
Step 6: Use expert articles.
Some local publications have sections for by-lined articles - articles authored by expert sources on various topics of interest. Check to see if your local papers accept by-lined articles, and then query the appropriate editor with topics that you could contribute. By-lined articles are great ways to build credibility, since by their very nature they are positioning you as an "expert" authority. And, since you are writing it, you have 100 percent control over the message. Be sure to write a compelling attribution paragraph for the end of the article, with a brief summary of your credentials, your Web site and your contact information.
Step 7: Get Internet savvy. From contributing articles to e-zines to blogging to YouTube to using press releases to maximize their rankings in the search engines, there are a wealth of strategies doctors can use to spread their name like wildfire in Cyberspace.
About "Operation Publicity":
"Operation Publicity: The Essential Guide for Doctors who Want to Maximize Publicity for their Practices, Procedures and Products" by Diana Laverdure offers private-pay doctors an easy-to-implement, step-by-step instruction guide to attracting a steady stream of qualified patients through TV, print radio and Internet publicity. "Operation Publicity" is available as an immediate PDF download at http://www.operationpublicity.com.
###