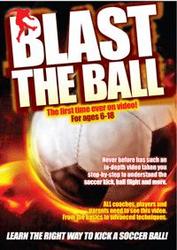 figure out proper kicking form
Atlanta, GA (PRWEB) August 20, 2007
Soccer in the United States seems to have "kicked up" interest recently. With the arrival of David Beckham and the new focus of youth on soccer, it's not surprising that demand for the Blast The Ball is stronger than expected.
The concept of Blast The Ball is a simple one, but the project itself grew very complex. According to Coach "V," the founding developer, he and his team spent over 2 years on the project before its initial release.
It all started when Coach "V" noticed something in common with youth soccer players. "After working with my own son, coaching other youth players and watching literally 1000's of hours of soccer matches and practices, I noticed something was wrong. The more we studied the problem we realized that it was not just a problem with very young players. The problem extended all the way up to very advanced players as well."
According to Coach "V" soccer is one of the few sports where the "study of the motion" has not been dealt with. It seems he has a good point. If you look at all the golf research and training videos, the golf swing has been studied and examined to an exhausting point. However, most soccer players are simply left on their own to "figure out proper kicking form". This led this soccer coach, soccer dad and soccer player to develop a video that would teach all the not only the basics of the soccer kick, but also the advanced science and technique.
One of the reasons Blast The Ball seems to winning over soccer coaches, players and parents is its overall approach to all age and skill levels. According to Coach "V" this was a priority for him. "So many people buy soccer training videos thinking they will help a 16 year old advancing player when in fact they were designed for a beginner. Likewise, many parents buy soccer training videos for young beginning players and are frustrated because they don't give them a step by step process to learn proper kicking form. I was firmly committed to making a video that would help an 8 year old as well as a professional player. I am pleased to say we hit this goal.
Sales for the video started with pre-orders early this summer and the demand is quickly growing. Not only a US demand but also world wide. According to Coach "V" they have received orders from all over the world. Orders from Canada, Norway, Finland, Estonia, England, Australia and Malaysia have been coming in every day.
Forgoing normal distribution routes Coach V insisted that the video be made available as a fund raising tool for youth clubs as well. They introduced an affiliate / fund raising program for soccer clubs they call "Learn and Earn". They program allows soccer websites and youth soccer clubs to place a sales banner on their website and earn money each time someone orders a copy. "We decided not go with the 'typical' distribution methods such as retail stores and large retailers. We wanted to offer youth soccer programs a way not only to sell this video to their players and parents, but also benefit from those sales. It is working and we now have clubs earning very good money without having to sell 'gift wrap paper' that no one really wants."
Right now the video can be ordered online at http://www.BlastTheBall.com and youth soccer clubs and website owners can also join their affiliate / fund raising program on the site.
###