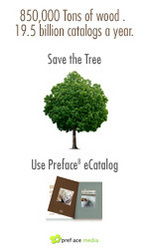 We can clearly see that the visitors are staying longer on the web sites. The average user visit to the online catalog is about 5 to 6 minutes comparing to traditional 30 to 45 seconds at other web sites
Dallas, TX (PRWEB) August 21, 2007
High-end decorative drapery hardware designer Paris Texas Hardware increased its online conversion rate by 200 percent since launching its newly designed web site along with the online catalog using Preface8 technology from Preface Media. Quarry GBI Tile and Stone chose to implement Preface8 eCatalog as well to feature their beautifully designed new web site. The traffic for both companies has increased multi-fold just days after launching the redesigned websites with Preface8 technology.
Paris Texas Hardware uses Preface8 Platform technology to showcase their product collections which link to downloadable installation templates. Home designers will never have to worry about where to drill holes or how complicated the installations could be. The eCatalog offers home designers a real time catalog browsing without waiting to download even on slower internet connections. Zoom, pan, rotate features are built-in functionalities which are always favorite features with the online catalog. "We can clearly see that the visitors are staying longer on the web sites. The average user visit to the online catalog is about 5 to 6 minutes comparing to traditional 30 to 45 seconds at other web sites" said Mike Sokoryansky, Director of Information Systems at Preface Media, Inc.
Home designers and interior designers also have the ability to bookmark certain products that interest them which later can be saved onto a local computer or printed out. Functionality that was previously not possible with a print catalog is now available with Preface8 eCatalog solution provided by Preface Media. Both companies, Paris Texas Hardware and Quarry GBI appreciate the value of Preface8 technology which attract more eyeballs and ultimately convert increased visits to dollars that increase revenue and profitability numbers.
###
About Preface Media, Inc.
Preface Media Inc. provides client care, technical expertise, creativity, and integrity for Web applications. We develop and host custom dynamic Web content solutions that seamlessly integrate into your existing infrastructure and bring your business to life online. The Preface8 platform offers one of the industry's most robust dynamic image servers and award winning designed interfaces to suit all your digital publication needs. We are your one stop solution for interactive online ecatalogs, digital magazines, flash brochures, ebooks and corporate materials.
About Paris Texas Hardware
Paris Texas Hardware was founded in 1992 by Kerri Green, PTH president and Creative Director, and has consistently provided unique, high-end decorative drapery hardware collections to the window coverings industry. PTH was born in response to a growing need for stylish and updated decorative drapery hardware. On March 2005, custom window covering giant Hunter Douglas has acquired Paris Texas Hardware, a manufacturer and marketer of branded decorative drapery hardware products.
About Quarry GBI Tile
GBI Tile was established in 1986 solely as an importer/exporter of Saltillo pavers from the interior of Mexico. From the onset, G.B.I. has been able to position itself ahead of its competition through family ties in both Mexico and Portugal; and also through the combination of the owners and the employees' extensive experience in the tile and stone industry.
###