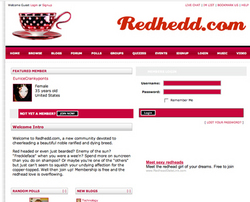 Steve has built a unique and compelling community
Detroit, MI (PRWEB) August 20, 2007
Global Defense Strategic Logistics Inc, formerly GlobalDyne DefenseMatic, the eighth-largest defense contractor in the world, has acquired Redhedd.com, a social community for and about redheads, as part of a major overhaul of their marketing strategies and an effort to put a friendlier face on their AT-600 series of ballistic missiles, nicknamed "redheads" for their bright red warheads.
"GDSL felt that it was time to start thinking outside of the box on this one," Says Rufus Sizemore, a Global Defense media liaison. "The redhead is one of the hottest selling ballistic missiles in the world, but no one outside of the defense community knows it by name. We want it to be a household name."
The first step toward that goal seemed an obvious choice: GDSL acquired Redhedd.com in July of this year, after a short round of negotiations. Redhedd.com was in talks with another buyer then whose name they cannot reveal, but ultimately chose to work with GDSL after, as Sizemore puts it, "We made them an offer they couldn't refuse."
But what do Redhedd.com's members think of the sale? "Well, at first it was a little hard to believe," says WaywardRed, a member from Novia Scotia. "But after a little getting used to, I started to see the logic in it. Redhedd.com has always been an amazing site, but GDSL has the deep pockets to develop it into something extraordinary. The benefits go both ways."
As part of the deal, Steve Warrington, the founder and administrator of Redhedd.com known to members as Steve, will be retained for up to 2 years after the sale. "Steve has built a unique and compelling community," says Sizemore. "He knows the ins and outs of the site, and has always been extremely involved in its daily operations."
"It's my baby," Warrington confirms. "I've tried to maintain a consistent presence, and I've even become close friends with several Redhedd members. It just wouldn't feel right to suddenly leave."
GDSL insists the purchase will have very little effect on the look and feel of the site. "Aside from the creation of a Global Defense profile, and profiles for the short-range and long-range "redheads", the only thing that will change will be the inclusion of a small number of Global Defense ad banners. "But it's not about bombarding members with GDSL advertising," says Sizemore. "Redhedd.com is a community: This is about interaction."
Global Defense Strategic Logistics is a global company engaged in the development, delivery and support of advanced defense and aerospace systems in the air, on land and at sea.
###