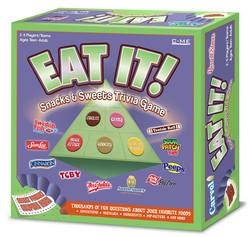 Arlington, VA (PRWEB) August 21, 2007
C-ME, LLC, the maker of EAT IT! Snacks & Sweets Trivia Game, a hilarious trivia board game about chocolate, candy, cookies, ice cream and desserts, is providing an innovative way for players to have even more sweet fun. Consumers will now find valuable product coupons for some of their favorite foods inside each game box. This new game release is on the shelves at select Target stores, and it will also be available in Toys"R"Us stores in October 2007.
Each game box of EAT IT! includes product coupons for Cadbury Adams USA's Swedish Fish® and Sour Patch® candies, Sara Lee® desserts, Jolly Time® popcorn, and Auntie Anne's® soft pretzels. These coupons complement the variety of high profile snack and confectionery product and company logo endorsements that appear on the box.
The board game, which was featured on an episode of the Food Network's "Unwrapped" show, enjoyed sweet success at major retailers like Toys"R"Us, Target.com, and Wal-Mart.com in 2006. It is expected to reach greater levels of popularity with the new coupon branding strategy.
EAT IT! Snacks & Sweets Trivia Game is a hit trivia board game about the fun foods that everyone loves to eat. Players test their snacks and sweets knowledge by answering fun and clever trivia questions across five tasty categories: Chocolate, Candy, Cookies, Snack Attack, and Ice Cream & Desserts. The types of EAT IT! trivia questions range from jingles and advertising campaigns, to ingredients, nostalgia, origins, pop culture, and much more. EAT IT!, which is recommended for teens to adults, is a very entertaining family game.
For a directory of Target stores where EAT IT! Snacks & Sweets Trivia Game is available, please visit http://www.EatItTrivia.com.
# # #