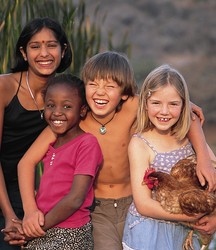 Heifer International is pleased to partner with such a forward thinking organization
Charleston, SC (PRWEB) August 20, 2007
Blackbaud, Inc. (NASDAQ: BLKB), announced today that Heifer International has adopted its recently released solutions, Blackbaud Enterprise CRM and Blackbaud Direct Marketing. The $100 million global organization, which raises most of its money through individual donations, works with communities to end hunger and poverty. Heifer will partner with Blackbaud to develop a constituent-centric model that integrates fundraising and various other activities across organizational boundaries.
Jo Luck, President and CEO of Heifer, speaking for her organization, said
she has high expectations for synergies that will result from the new processes. "Heifer International is pleased to partner with such a forward thinking organization," she said. "Blackbaud's expertise will propel us forward in our constant search for greater efficiency to conserve donor dollars as we work toward meeting our mission of ending hunger and poverty."
Since 1944, Heifer has helped 8.5 million families in more than 125 countries move toward greater self reliance through the gift of livestock and through training in environmentally sound agriculture. In 2006, with 726 active projects in 57 countries and 29 U.S. states, Heifer received private contributions of more than $89 million.
As Heifer International continued to rapidly evolve and grow over the past decade, it became clear that it needed to move beyond its current model to better address current and future needs. As a result, Heifer chose to partner with Blackbaud on a project called "Bridges," which will change the organization's strategic approaches to resource development, planning and utilization. With the aid of Blackbaud's solutions and services, Heifer will develop new business processes, procedures, and information systems.
"Heifer International is a leader in adopting emerging technologies to deliver a rich and meaningful experience to its diverse constituency," said Marc Chardon, Blackbaud's chief executive officer. "By embarking on the Bridges project and engaging Blackbaud's enterprise solutions and services, Heifer is reinforcing its commitment to its supporters and proactively positioning the organization for continued growth."
The recent agreement with Blackbaud will focus on replacing Heifer's existing fundraising system and underlying technical infrastructure. Blackbaud Enterprise CRM and Blackbaud Direct Marketing will result in seamless, consistent data that can be easily accessed and shared.
The fully-integrated Blackbaud solution will enable Heifer to:

Provide a single, comprehensive view of each constituent, capturing all relationship information to more effectively target donors and compete for funding, while preserving role-based access
Fully integrate its marketing with shared constituent data providing a 360° view of constituent attributes, activities and giving
Achieve inter-departmental collaboration to attain enhanced efficiency and communication
Address underserved areas such as direct marketing, CRM, major giving, document, and workflow, volunteer and event management
Blackbaud will also bring best practices and methodology to complement its technology capability to help Heifer enhance and optimize its operations.
About Heifer International
For more than 60 years, Heifer International has provided millions of struggling families a way to become self-reliant for food and income. Through the gift of livestock and training, a family can obtain milk, eggs, wool and other income-producing benefits to feed, clothe and educate their children. Each gift multiplies because every family that receives a Heifer animal promises to "pass on the gift" by giving one or more of their animal's offspring to another family in need. Heifer International supports sustainable small-scale farm enterprises to improve nutrition and supplement income. Local community groups conceive and manage Heifer International projects, empowering them to solve their own problems and equipping the next generation to face challenges successfully. For more information about Heifer International, please call 800.696.1918, or visit the website at http://www.heifer.org.
About Blackbaud
Blackbaud is the leading global provider of software and services designed specifically for nonprofit organizations, enabling them to improve operational efficiency, build strong relationships, and raise more money to support their missions. Approximately 19,000 organizations — including the American Red Cross, Dartmouth College, the WGBH Educational Foundation, Episcopal High School, Lincoln Center, Cancer Research UK, Special Olympics, and Arthritis Foundation — use one or more of Blackbaud products and services for fundraising, constituent relationship management, financial management, direct marketing, school administration, ticketing, business intelligence, website management, prospect research, consulting, and analytics. Since 1981, Blackbaud's sole focus and expertise has been partnering with nonprofits and providing them the solutions they need to make a difference in their local communities and worldwide. Headquartered in the United States, Blackbaud also has operations in Canada, the United Kingdom, and Australia. For more information, visit http://www.blackbaud.com.
Media Contacts:
Jennifer Pierce
Heifer International
jennifer.pierce(at)heifer.org
501.907.2952
Melanie Milonas
Blackbaud, Inc.
melanie.milonas(at)blackbaud.com
843.216.6200 x3307
Source: Blackbaud
Forward-looking Statements
Except for historical information, all of the statements, expectations, and assumptions contained in this news release are forward-looking statements that involve a number of risks and uncertainties. Although Blackbaud attempts to be accurate in making these forward-looking statements, it is possible that future circumstances might differ from the assumptions on which such statements are based. In addition, other important factors that could cause results to differ materially include the following: management of integration of recently acquired companies and other risks associated with acquisitions; risk associated with successful implementation of multiple integrated software products; lengthy sales and implementation cycles, particularly in larger organizations; uncertainty regarding increased business and renewals from existing customers; continued success in sales growth; the ability to attract and retain key personnel; risks related to our dividend policy and share repurchase program, including potential limitations on our ability to grow and the possibility that we might discontinue payment of dividends; risks relating to restrictions imposed by the credit facility; risks associated with management of growth; technological changes that make our products and services less competitive; and the other risk factors set forth from time to time in the SEC filings for Blackbaud, copies of which are available free of charge at the SEC's websites at http://www.sec.gov or upon request from Blackbaud's investor relations department.
###