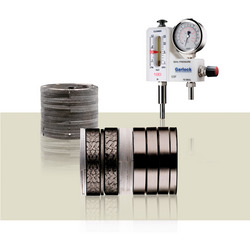 Palmyra, NY (PRWEB) August 21, 2007
Garlock Sealing Technologies, a leader in fluid sealing technology for more than 100 years, has developed the leak-free, no-dilution HYDRA-JUST™ Sealing System. This patent-pending sealing system replaces mechanical seals in virtually any industrial pumping application; it is especially suited to hostile, abrasive environments and eliminates the risk of catastrophic failure.
The HYDRA-JUST™ sealing system is a rotary shaft sealing system engineered to make mechanical seals and packing obsolete. Unlike mechanical seals and packing, it does not use water to lubricate seal surfaces. Rather, it forms and maintains a bearing relationship to the shaft face in the seal chamber while preventing the process media from migrating into the stuffing box. This revolutionary design creates a new sealing category -- a radial bearing-to-face seal - which is less expensive and more cost effective than traditional mechanical seals. Further, its cool, dry, no dilution operation significantly reduces water consumption.
"Success in this business is all about solving problems, and Garlock has created a sealing solution that's better than packing or mechanical seals," says Michael Faulkner, senior product manager for Garlock. "Customer response has been fantastic. We've delivered a truly leak-free rotary seal with unmatched abrasion and chemical resistance -- and incredible water efficiency."
Designed for true outage-to-outage service in a wide variety of industrial pumping applications, the HYDRA-JUST™ sealing system provides fair warning to required seal change allowing maximum uptime and conveniently schedule maintenance. Requiring no start-up adjustments or special installation equipment, the HYDRA-JUST™ sealing system can be installed in less than one hour, compared to at least 2 ½ to 3 hours for mechanical seals.
For more information, visit hydrajust.com. Customers can purchase the new HYDRA-JUST™ sealing system through an authorized Garlock distributor or visit garlock.com and go to "Representative Locator" to contact a local Garlock representative.
About Garlock
Garlock Sealing Technologies, an EnPro Industries company, designs, manufactures and sells fluid sealing products worldwide. A recognized industry leader, Garlock advances fluid sealing technology by delivering innovative solutions and services for process industries' most demanding applications. The company has 13 global operations with 1,500 employees and distributes its products in more than 75 countries.
###