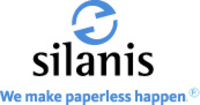 Montreal, QC (PRWEB) August 21, 2007
Silanis, the leading e-signature provider and premier supplier of e-signature solutions to the US government, is extending its government year-end special on ApproveIt® Desktop, the award-winning electronic signature solution that helps organizations maintain completely electronic business processes, until September 30, 2007.
For only a limited time, save money and join the growing ranks of Silanis government customers benefiting from completely paperless processes with e-signatures:

United States Postal Service - Office of Inspector General
Department of Treasury, US Mint
Only until September 30, 2007, federal, state and local government organizations can save thousands of dollars while improving its ability to become more responsive to constituents, business partners and employees.
Go to the GSA schedule (#GS-35F-0337K) to view all of Silanis' solutions and services.
Organizations using ApproveIt Desktop immediately reduce processing costs, compress approval cycles and increase their responsiveness, with the assurance that this award-winning technology is secure, legally enforceable and easy to use.
ApproveIt Desktop supports multiple document formats, including Microsoft Word and Excel, Adobe PDF and IBM Workplace Forms. The ideal tool for streamlining internal processes, it can also enable e-signatures in a point-of-service environment, and integrates easily with forms, workflow, or content management systems.
This leading e-signature solution can also be combined with third-party user authentication products, including PKI digital certificates,
smart cards, tokens and biometric identification systems -- easily adapting to various user authentication security levels, depending on the risk each process involves.
As a licensed solution, ApproveIt offers a flexible, customizable solution that seamlessly integrates with your existing process and portals, for a consistent look and feel. It also allows you to maintain control over your mission-critical documents, and keeps your total cost of ownership low.
For more information and to take advantage of this promotion, visit http://www.silanis.com/site/solutions/solution.php?topic=civilian&solution=government_year-end_promotion_2007
About Silanis
Founded in 1992, Silanis Technology (http://www.silanis.com) is the largest and most experienced provider of electronic signature solutions. More than 1,400 government and commercial organizations, representing two million users, depend on Silanis' solutions to accelerate operations, improve service and reduce costs.
The company's solutions not only eliminate the inefficiencies of paper, they provide reliable and auditable business records needed to demonstrate compliance with applicable laws, standards, regulations and policies.
###