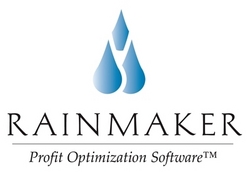 To ensure we accept the most valuable groups, we run every potential piece of business through a profitability analysis in Rainmaker's group module to forecast its theoretical revenue contribution to the company. I personally approve every group we accept to maintain our standards.
Atlanta, GA (PRWEB) August 22, 2007
The Four-Diamond IP Casino Resort Spa in Biloxi, Mississippi is an extraordinary post-Katrina success story. The waterfront Biloxi Bay high-rise casino property, named the Imperial Palace Hotel and Casino before the storm, was severely battered by Hurricane Katrina in August 2005. In January 2007 the property re-branded as IP Casino Resort Spa after a total property renovation that upgraded the entire hotel and gaming facility, and in April 2007 it was awarded a Four-Diamond rating from AAA. Today the IP is attracting a new class of guest and building stronger regional loyalty. Proof of success is in the numbers: the 1,087-room IP is running at over 90 percent occupancy with a 300 percent higher average daily rate (ADR) since its post-Katrina renovations.
"Our owners and the entire property team worked hard to create the new IP Casino Resort Spa from the shell of the old property," said Robert Brigham, VP of hotel operations. "Everything about the IP is upgraded from the pre-Katrina facility, and our Four-Diamond rating means we are attracting a higher-rated type of guest. With the help of a new revenue management system, our ADR is up 300% and we are running very high occupancies." Brigham explained that prior to the IP's upgrade and new casino revenue management technology, it frequently packed rooms with sports groups and convention business that did not bring revenue to the gaming floor. "Now we use the revolutionSM [revenue management software (RM) system from The Rainmaker Group to optimize the room rate for each guest and group based on their value to all areas of the enterprise, including the casino."
Brigham's team maximizes IP's profitability by leveraging the revolution system's ability to accurately estimate the total property profitability of each guest segment by analyzing player gaming information and other data to set rates that are attractive to the most valuable segments. The system's rate recommendations are based on historical gaming performance and include forecasted additional revenue from dining, spa and other sources.
Convention business is a booming market along the Gulf as the region continues its renaissance. "Our meeting space totals about 20,000 square feet and it is in high demand," explained Brigham. "To ensure we accept the most valuable groups, we run every potential piece of business through a profitability analysis in Rainmaker's group module to forecast its theoretical revenue contribution to the company. I personally approve every group we accept to maintain our standards." Other property departments also use the Rainmaker group forecasts to set appropriate staffing levels.
The IP Casino Resort Spa is continuing to upgrade and currently expanding two of its large penthouse suites, converting one to a luxury spa massage facility. The resort's cinema is also scheduled for a total makeover and will emerge as an elegant Asian themed restaurant. With its upscale appointments, attention to detail and Four Diamond rating it looks like good fortune will keep smiling on the beautiful IP on Biloxi Bay.
About IP Casino Resort Spa
The IP Casino Resort Spa is the Mississippi Gulf Coast's premier one stop resort destination. Soaring 32 stories over the scenic Back Bay of Biloxi, the IP is home to over 1000 elegantly appointed hotel rooms and suites and the only restaurant in the state which takes fine dining to dramatic new heights--thirty-two, recently honored with AAA Four Diamond status as well. Guests enter IP via a marble-paneled lobby dotted with unique amenities, including Chill Ultra Lounge, the IP Infusion coffee bar, Essentials gift shop and the fantastic Brazilian restaurant, Carnaval de Brasil. Three high-energy casino floors feature a 70, 000 square foot gaming area with the newest most exciting slot games, 20X odds-on craps as well as other favorite table games, and a state-of-the-art non-smoking poker room and poker-bars on each floor. The Royal Halls provide an ideal meeting space for groups up to 1000. IP's tantalizing Back Bay Buffet features the freshest seafood and Southern classics, along with an array of international food stations. The Highlights Sports Lounge has over 65 plasma screens so guests can catch their favorite game. High Tide Café is IP's 24-hour full service restaurant. Quench restaurant offers fabulous food and drink while guests hang by the pool, and then becomes Q After Dark with entertainment under the stars.
About Rainmaker Group
The Rainmaker Group is a software and services company that provides the revolution product suite to the hotel and casino hotel industries. Rainmaker's revenue management solutions increase client profitability by securing the most profitable customers and developing effective business processes that enable clients to identify and maintain availability for their most profitable revenue sources. The company helps casino hotels increase profitability through the accurate, instantaneous ability to determine the minimum acceptable value of each guest. Hospitality clients include MGM MIRAGE, Boyd Gaming, Harrah's Entertainment, Isle of Capri Casinos, Omni Hotels, IP Casino Resort Spa, Trump Entertainment Resorts and other leading hotel companies.
Incorporated in 1998, The Rainmaker Group also provides, implements and supports the revolution LRO SM profit optimization solution that enables multi-family housing operators to maximize revenue from apartment leases. revolution LRO lease rate improvement results have been reviewed and validated by independent accounting firms. For over five years revolution LRO has delivered optimized leasing rates to the largest operators in the industry including Archstone-Smith, Equity Residential, Post Properties, Simpson Housing, Mid-America Apartment Communities and a number of other leading multifamily housing companies.
Contacts:
IP Casino Resort Spa
850 Bay View Avenue
Biloxi, MS 39530
228-436-3000
http://www. http://www.ipbiloxi.com
Email: ipinfo(at)ipboloxi.com
The Rainmaker Group
Tammy Farley
5755 North Point Parkway, Suite 77
Alpharetta, GA 30022
Phone: (877) 221-7474 ex 155
Email: sales(at)letitrain.com
http://www.letitrain.com/?campaign=PRWebIPBiloxiAug222007
Media Contact:
Julie Keyser-Squires
Softscribe Inc.
404-256-5512
julie(at)softscribeinc.com
http://www.softscribeinc.com
###