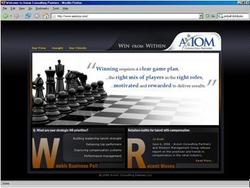 Juan joins us at an exciting time in our Firm's development.
Chicago, IL (PRWEB) August 22, 2007
Axiom Consulting Partners LLC announced today that Juan Pablo Gonzalez has joined the firm as Principal located in Washington, DC. Juan brings deep expertise in human capital issues having spent much of his career consulting with leading corporations on helping to maximize their Return on Talent Investment.
Prior to joining Axiom, Juan led consulting services for Mercer Human Resources Consulting and for RSM McGladrey. His senior corporate roles have included leading the compensation, benefits and human resources information systems functions for Constellation Energy as well as for Baan Company.
"I look forward to growing Axiom's formidable business in helping companies gain the most from their significant investments in human capital, and enhancing Axiom's ability to provide insight to clients." said Mr. Gonzalez.
"Juan joins us at an exciting time in our Firm's development." said Steve Strelsin, Axiom's President and Chief Executive Officer. "Increasingly, companies' stakeholders are demanding that they improve their Return on Talent Investment. With his depth of expertise in this field, Juan is an outstanding addition to our team."
About Axiom Consulting Partners
Axiom Consulting Partners is a management consulting firm that specializes in hardwiring people to business strategy to deliver improved performance and results. Axiom asks the right questions to uncover and remove disconnects that commonly exist among the boardroom, middle management and front line employees. Axiom's Partners generate insights and develop recommendations for their clients that have a quantifiable business impact.
Media Contact:
John Whelan
Director, Market Development
161 N. Clark Street, Suite 4700
Chicago, IL 60601
(312) 523-2090
jwhelan(at)axiomcp.com
http://www.axiomcp.com
This press release was distributed through eMediawire by Human Resources Marketer (HR Marketer: http://www.HRmarketer.com) on behalf of the company listed above.
###