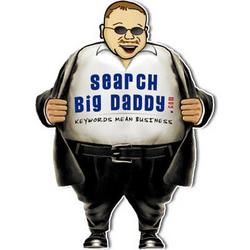 If a business isn't listed where these folks are looking for them, they will lose a lot of prospective revenue.
Chandler, AZ (PRWEB) August 22, 2007
Go to any major search engine and try to find something locally when your money is burning a hole in your pocket or you need what you are searching for right then and you are ready to buy it. If you are willing to wade through thousands of results, many of which won't really be local, you might get lucky and find it right away. However, that is the exception not the rule.
SearchBigDaddy.com has solved that problem by developing and launching a 'truly local search directory' called Local.SearchBigDaddy.com that offers a free listing to every business in the United States (over 14 million of them) in more than 29,700 cities.
Many businesses haven't felt a need to advertise in local directories until recently. Troy Warren, President and CEO of Search Big Daddy said, "Over 70% of customers that buy products, services or support off line (in their local area) say they started their search online using a search engine or local directory. Local businesses cannot afford to miss out on those kinds of numbers any longer."
Warren continued, "Our local City Portals can put your business up front and in the face of your customer, for free. With our enviable ALEXA.com rating which has put SearchBigDaddy.com in the TOP 5,000 most trafficked Web sites in the world and in the TOP 1,000 most trafficked Web sites in the US, advertisers are sure to get an extra boost in their campaigns. Not to mention the extremely affordable advertising rates."
A recent comScore study found that:

Over 110 million people performed a local search in 2006
41% of them were looking for something in their local area
47% of them visited a local merchant as the result of their search and
52% of them said they were looking for a business phone number or address.
"If you're looking for a new home, an attorney, a fine dining restaurant, a new refrigerator, or just to have a pizza delivered, Local.SearchBigDaddy.com is the place to start your search. Our goal is to help local residents explore their communities and find exactly what they are looking for quickly and then make it easy to get true results," said Warren.
"As more and more people tune into the 'always on' connections from broadband, they are able to find information on local businesses, products and services much faster now", said Angela Smith, Search Big Daddy's National Sales Director. "If a business isn't listed where these folks are looking for them, they will lose a lot of prospective revenue."
Businesses that recognize that the key to getting new customers, as well as repeat customers, is to make their contact information available where people will be looking for it will be the ones that come out on top in this day and age.
And if a business does not have a Web site, then Local.SearchBigDaddy.com can be the answer because they provide a web presence for them.
Over 1,000 cities in the US have a City Keyword Manager. City Keyword Managers are the eyes and ears for SearchBigDaddy.com in the City Portals. "City Keyword Managers represent us in your city and will be there to help you set goals and achieve them so you can best reach your customer", said Warren. "When was the last time a major search engine representative sat down with you and helped you plan out your advertising needs?"
For local businesses it's easy to set up. Each business can upload logos, photos and add descriptions of their business. It's extremely easy to manage. There are never any keywords or bids to worry about. And since potential customers from their area visit often, it only makes sense to add a listing.
Businesses wanting to take advantage of the free advertising, before it is gone, should go to SearchBigDaddy.com and click on GO LOCAL to add their listing immediately. The City Portals are loaded up with Video, Social Networking, Blogging, Classifieds, and free online eCards.
Warren said "No one should miss the latest addition to Local.SearchBigDaddy.com which is known as WIKI (definition: A website or similar online resource which allows users to add and edit content collectively.). Users in our communities are able to add helpful and useful content about their city for the next visitor to view. Over time the knowledge base is extremely valuable to visitors and advertisers alike."
Warren continued "With the recent purchase of BigDaddy.com, now Local.SearchBigDaddy.com can support schools all across America. The activities of online users will remunerate schools in a fundraising fashion. The official launch is slated for September 4, 2007 just after the Labor Day holiday."
To learn more about SearchBigDaddy.com, please visit http://www.searchbigdaddy.com or call Corporate Headquarters in Chandler, AZ at 480-786-LIST (5478), Monday through Friday from 9AM - 5PM Pacific Time (USA).
###