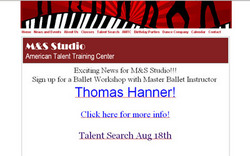 Fredericksburg, VA (PRWEB) August 22, 2007
Modern technology such as wireless Internet, PDAs, smartphones, and other Web-enabled devices provides a greater demand for businesses to maintain an online presence. Customers expect that any business that they are working with will have an up-to-date, helpful, and robust Website. This leaves small business owners like Sabine Kvenberg, co-owner of Virginia-based M&S Studio and the American Talent Training Center, challenged to keep up.
"It is important for a business owner like me to recognize that technology has changed how people live their lives. When someone is doing research on anything--including the acting, dance and music studio that they want to enroll themselves or their children in, the first place that they go to nowadays is the Internet," says Kvenberg. "It is absolutely necessary for any business today to cater towards their technologically savvy, on-the-go-clientele by taking their business online and ensuring that it is accessible anywhere, at any time. This is why M&S Studio has launched both our main Website, mandsstudio.com, and our new mobile-enabled Website, mandsstudio.mobi."
In order to provide its clients with information they want about the studio, M&S Studio employed the help of Network Solutions, a leading web solutions provider, to develop and create a top website design that can be accessed from any computer or mobile device with Internet access. The recently launched M&S Studio Website allows anyone looking for more information on M&S Studio to access information about the studio, which provides acting, dance, and music instruction for students of all ages and levels. Information included on mandsstudio.com includes hours of operation, location, directions, class schedule, instructor bios, and more.
M&S Studio's Website was designed by Network Solutions using their Do-It-For-Me Premium Website Design Services package. This service allowed Sabine to get a customized Website design created to her specifications. Network Solutions provided Sabine with a professional, top website design and one-on-one attention from both a web designer and copywriter.
M&S Studios is constantly looking forward to ways to increase communication with its customers, and are pleased with their new Websites from Network Solutions. Says Sabine, "Ever since we realized just how much downtime parents of our students spend communicating and researching on the web through the use of mobile devices like PDAs, iPhones, and Treos; we knew that we had to ensure that our Website was not only world-class, but could also be easily accessed by our customers when on-the-go. Now we can do just that, thanks to Network Solutions."
About M&S Studio:
M&S Studio of the Performing Arts has grown from 40 students, when it opened in 1994, to over 300 today. With two locations, Fredericksburg and Aquia, the Studio offers acting, dance and music instruction for beginning to advanced students and is open to males and females, ages 3 to adult. For more information, visit mandsstudio.com.
###