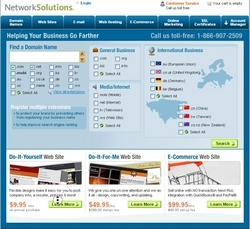 Guide to Driving Sales with Pay Per Click.
Herndon, VA (PRWEB) August 27, 2007
As consumers grow increasingly comfortable with shopping online, there is a higher demand for businesses to provide an e-commerce storefront in addition to their traditional brick-and-mortar store. The winter holiday season traditionally provides the biggest upswing in an online retailer's business, however it is necessary to start planning a tailored online marketing (OLM) strategy as early as July and August. Network Solutions®, a leading web solutions provider, wants to assist and educate small businesses about how they can increase their online sales during this potentially profitable shopping season, via their new white paper, "Guide to Driving Sales with Pay Per Click."
Pay-per-click (PPC) is a form of advertising which places an ad on a search engine results page when a potential customer performs a search via a major search engine such as Google or Yahoo! for a similar term. PPC advertisers pay when a potential customer clicks on their advertisement, which takes the potential customer to the advertiser's Web site. Jeff Zimmerman, Vice President of Product Management and Marketing at Network Solutions, explains, "Pay Per Click Internet advertising is a great way for e-tailers to ensure that they have the most profitable season possible. The old saying 'Christmas in July' is actually very relevant to online merchants, because it is imperative that they start thinking as early as July about their online sales strategy for the upcoming holiday season."
This free whitepaper, developed by the online marketing experts at Network Solutions, clearly reviews all the topics that an online retailer needs to understand in order to have a PPC campaign in place by the holiday season. It thoroughly explains Pay Per Click advertising services, why online advertising is important, and how online retailers can utilize PPC advertising in order to significantly increase their online traffic and sales conversions. The "Guide to Driving Sales with Pay Per Click" also outlines how a small business can stand out from other online businesses, which is critical during the busiest shopping season of the year.
"This whitepaper is a great way to help small businesses plan and get ready for the holiday season," explains Lara Mehanna, Director of Online Marketing for Network Solutions. "Network Solutions is committed to helping our customers get ready today to ensure online success tomorrow."
You can download the "Guide to Driving sales with Pay Per Click" here. To learn more about Network Solutions Pay Per Click Internet advertising solutions, call 866-472-8665 or visit NetworkSolutions.com.
About Network Solutions®:
Network Solutions, a leading provider of domain services and web solutions, offers a comprehensive life of products for small businesses, including affordable website and logo design, e-commerce shopping cart software, Pay Per Click advertising, web site promotion, and other Internet solutions. As an industry pioneer and over 28 years in the web services industry, Network Solutions is committed to helping businesses succeed with affordable and simple one-stop shopping solutions.
###