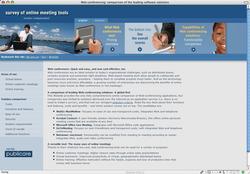 Frankfurt, Germany (PRWEB) August 22, 2007
webconferencing-test.com, the vendor-independent Website to test and review collaboration and online-meeting tools, has put a further thirteen products through their paces. The performance of many solutions was between acceptable and good. However, a number proved to be a waste of time and money for small and mid-sized companies without a dedicated IT department. Furthermore, the weighting of test criteria has been adjusted to better reflect user-friendliness and real-world needs. This resulted in a slight change in the final scores for the five solutions featured in the comprehensive main comparison.
Comprehensive picture of the current market
webconferencing-test.com provides visibility into the Web-conferencing solutions market. To provide an even more complete picture, the following solutions were recently tested and included on the portal: BeamYourScreen, Convenos Meeting Center, Elluminate vRoom, FastViewer, LogMeIn Free, Microsoft NetMeeting, Windows Meeting Space, spreed.com (Struktur AG), TeamViewer, Vyew (Simulat, Inc.), and Yugma. In addition, the following tools were also reviewed but not tested as they are designed primarily for large enterprises: Saba Centra Live for eMeetings, Cisco Unified MeetingPlace, Genesys Meeting Center, IBM Lotus Sametime, Interwise, and PGi NetSpoke (Premiere Global Services).
Weighting adjusted to reflect ease of use and real-world needs
Ease of use and real-world needs are the most important criteria for the Website's target audience - small and mid-sized companies. As a result, the weighting of individual test categories has been adjusted - with those most relevant to user-friendliness and real-world needs accounting for a greater percentage of the overall score.
Hits and misses
The updated results of the five Web-conferencing solutions included in the comprehensive main comparison are: Citrix GoToMeeting (9.3 out of 10), WebEx MeetMeNow (9.1 out of 10), NetViewer one2meet (8.6 out of 10), Adobe Connect (8.2 out of 10), and Microsoft Office Live Meeting (7.1 out of 10). The solutions with the lowest scores were: TeamViewer (5.2 out of 10), a difficult-to-use support tool. This was followed by NetMeeting (4.9 out of 10) - which does not enable the role of presenter to be passed to another participant, and, as peer-to-peer software, is too complex technically to merit a recommendation. And Vyew brings up the rear: ungraded. It was not possible to test this solution, as key functions did not work properly.
###