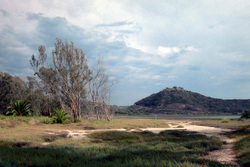 Any time of the year, visitors to Carlsbad can enjoy beautiful sandy beaches, luxurious resorts, more than two dozen fine hotels, outstanding shopping districts, world-class sporting events, the only LEGOLAND park in the United States and more than a dozen challenging golf courses in and around the city, including The Crossings at Carlsbad, the city's newest municipal golf course
Carlsbad, CA (PRWEB) August 23, 2007
Fall is the season to take a break from city life, suburban mania, and Saturday morning soccer practice, according to the Carlsbad Convention & Visitors Bureau. Let your wild side take charge and come to Carlsbad on San Diego's beautiful North Coast when birding is at its best.
In the fall, Mother Nature fills the sky with voluminous white clouds and the migratory birds begin long flights to winter homes. A vital sanctuary along the migratory path and a winter destination is Carlsbad's Batiquitos Lagoon, one of the few remaining tidal wetlands on the southern California coast. The lagoon is a haven for resting tired wings, food supplies and birding enthusiasts. The coastal salt marsh with tidal mudflats is a natural environment supporting birds, insects, plants, fish and mammals. Many species living on the land that surrounds the lagoon are dependent on the wetland habitat.
Some of the more frequent flyers seen at the lagoon are the pied-billed grebe, great egret, snowy egret, black-necked stilt and western sandpiper. Throughout the year at least 185 species of birds have been spotted at the lagoon. However, according to local bird expert and docent Mona Baumgartel, "unusual and out of the ordinary species are seen sporadically throughout the year." Baumgartel also commented that "the docents call Batiquitos lagoon a bird's bed & breakfast."
The Batiquitos Lagoon Nature Center is staffed with knowledgeable docents who can guide you on the trails or answer any questions about the thriving wildlife and vegetation. Each docent contributes their expertise that makes a guided tour a pleasurable learning experience or visitors may go on a self guided tour and discover the magic of the lagoon on their own.
"Any time of the year, visitors to Carlsbad can enjoy beautiful sandy beaches, luxurious resorts, more than two dozen fine hotels, outstanding shopping districts, world-class sporting events, the only LEGOLAND park in the United States and more than a dozen challenging golf courses in and around the city, including The Crossings at Carlsbad, the city's newest municipal golf course," said Kurt Burkhart, executive director for the Carlsbad Convention & Visitors Bureau. Burkhart added, "the course also includes a three-mile long moderate, hiking trail which is part of the city's comprehensive trail system."
###