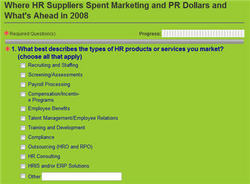 This report will help HR suppliers better allocate their marketing and PR dollars in 2008.
Capitola, CA (PRWEB) August 22, 2007
How prevalent are the use of blogs, podcasts and other Web 2.0 tools by human resource suppliers? Are print advertising budgets being reduced in 2008? Will human resource vendors attend fewer tradeshows? These questions and more will be answered in HRmarketer.com's upcoming research report, Trends in HR Marketing: Where HR Suppliers Spent Marketing and PR Dollars in 2007 and What's Ahead in 2008.
The upcoming report will outline key trends such as: the patterns of adoption and use of various marketing and public relations tactics by human resource suppliers, the growth of "Marketing 2.0" tactics including social networking, what marketing activities have the greatest impact in lead generation, the importance of SEO and search-optimized press releases, the amount suppliers will invest in Pay-Per-Click advertising, and more.
"For suppliers attempting to reach HR buyers and inform them about products that can benefit their bottom line, new approaches are needed as the Internet dramatically alters how HR professionals purchase products and services," explains Kevin Grossman, chief operating officer of HRmarketer.com. "This report will help HR suppliers better allocate their marketing and PR dollars in 2008."
HR suppliers who would like to participate in the research or pre-register to receive the report, may visit: http://www.HRmarketer.com
About HRmarketer.com:
HRmarketer.com is a service of Fisher Vista LLC, a marketing and public relations firm focusing exclusively on the human resource and senior care industries. Since 2001, over 500 human resource suppliers have used HRmarketer.com and the HRmarketer Services Group to generate publicity, website traffic, sales leads and improved SEO.
This press release was distributed through eMediawire by Human Resources Marketer (HR Marketer: http://www.HRmarketer.com) on behalf of the company listed above.
###