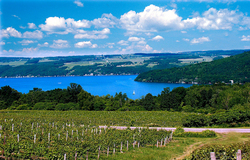 The harvest is looking incredibly nice - nice, clean fruit
Finger Lakes Wine Country, NY (PRWEB) August 22, 2007
Fall harvest provides a sensual backdrop for visitors in Finger Lakes Wine Country. The air is as crisp as the fallen leaves. Baskets are filled to the brim with perfectly-ripened fruit. The aromas of freshly crushed grapes, warm apples and pumpkin pie are around every corner. Every sensation is awakened and adds to the excitement as the grape growers reap the rewards of a year's hard work.
A bumper grape harvest is expected owing to ideal conditions over the 2007 growing season. "The harvest is looking incredibly nice - nice, clean fruit," said John McGregor, owner of McGregor Vineyards in Dundee, N.Y. "The season is shaping up very well for red varietals."
Fall foliage is also expected to be at its best this year also due to the favorable weather. "Finger Lakes Wine Country is poised to have a nice, full fall foliage season. The weather hasn't been too extreme, not too wet or dry," according to Elinor Keely, an official "leaf peeper" of Chemung County.
Harvest is a time of celebration. Locals and visitors alike are welcome to participate in the bounty of harvest activities and festivals, while taking in the over 90 fine wineries along the shores of Cayuga, Keuka and Seneca Lakes.
Thirsty Own Wine Company Wins Coveted Governor's Cup at 2007 NY Wine and Food Classic.
Finger Lakes Wine Country's Thirsty Owl Wine Company won the coveted Governor's Cup trophy at the 2007 New York Wine & Food Classic competition August 7 - 8 at Copia, the American Center for Wine, Food and the Arts in Napa, Ca. The Governor's Cup recognizes the Best of Show or top prize of all 790 entries in the Classic, which is known as "the Oscars" of New York wine.
Harvest Season Bed and Breakfast Bargains
The Inn at Glenora Wine Cellars, Dundee, NY
30 luxury guestrooms and a fine dining restaurant in a relaxed atmosphere all with breathtaking views of Seneca Lake and the vineyards. (800) 243.5513 or (607) 243.9500; http://www.glenora.com
Harvest Events in Finger Lakes Wine Country
September 2007
09/07/07 Grand Prix Festival of Watkins Glen
The featured highlight of the festival is a trbiute to the Grand Prix races using the original 6.6 mile road course. Always a crowd pleaser, the Zippo Watkins Glen Grand Prix Race tribute is designed to recreate the ambiance of the 1948-52 Watkins Glen street races. 800-607-4552.
09/07 - 09/09/07 U.S. Vintage Grand Prix at Watkins Glen International, Watkins Glen
The 2007 season will close with the traditional season finale-the Zippo U.S. Vintage Grand Prix, September 7-9. This event celebrates racing's history and continues to be the largest vintage racing event in the country featuring historic cars. 866-461-7223; http://www.theglen.com
09/08 - 09/09/07 Second Annual Grape Stomping Festival, Cobblestone Farm Winery and Vineyard
Take off your shoes and roll up your pants. This event features grape stomping, an "I Love Lucy" look-alike contest (contestants to be judged at 3:00 p.m. each day), award-winning wines, food, scrumptious ice cream, including a merlot sorbet. 315-549-8797;
09/15 - 09/16/07 Oktoberfest, Keuka Lake Wine Trail
Enjoy German music and food while tasting world-class Germanic style wines produced in Finger Lakes Wine Country. See the region in one of its most spectacular seasons: Autumn! Tickets: $16 advance sale; $20 at the door. 800.440.4898; http://www.keukawinetrail.com
09/23/07 Vine Dining, Atwater Estate Vineyards
A five-course menu paired with Atwater Estate wines is created for you and 23 others and served in a sacred spot deep within the heart of the vineyards. One of the winemakers will join the dinner table to indulge you in lively commentary and engage all present in conversation throughout the decadent evening. $75.00 tax and gratuity included. Call for reservations. 607.546.9463 or 800.331.7323;
October 2007
10/06 - 10/07/07 Pumpkin Patch at the GlassMarket, Corning Museum of Glass
10/13 - 10/14/07 Pick a great glass pumpkin! Choose from a wide variety of sizes, colors and prices in this outdoor glass pumpkin patch. Admission is free. Call (800) 723-9156 for more information. http://www.cmog.org
10/06/07 Scarecrow Contest, Montour Falls Harvest Festival
The Falls Harvest Festival is seeking creative, whimsical entries for the first-ever Scarecrow Contest. A prize of $50 will go to the overall Most Original, Most Humorous, Best Traditional and Best of Show in age and business/corporate categories. 607.535.4300
10/27/07 Chestnut Festival, Goose Watch Winery
Enjoy chestnuts harvested right at Goose Watch. Sample roasted chestnuts, chestnut soup, live music and more. 12:00 - 5:00 p.m. 315.549.2599;
To request free Finger Lakes Wine Country travel information, go to http://www.fingerlakeswinecountry.com or call (800) 813-2958.
###