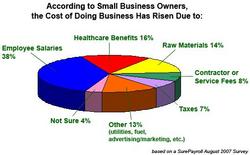 As a result, they are forced to avoid raising prices and look to other methods to increase or maintain profit, hoping economic issues work themselves out.
Glenview, IL (PRWEB) August 22, 2007
A recent survey conducted by online payroll service SurePayroll found that while 92% of respondents have noticed an increase in the cost of doing business in 2007, more than 70% have chosen not to raise prices to offset costs.
Even though nearly all respondents indicated that operating a business was increasingly becoming more expensive, most did not report an increase in prices during 2007. 28% of small business owners said they had enacted a moderate price increase, while less than 2% reported a significant increase in prices.
The largest amount (54%) reported that they have kept prices approximately the same, and nearly 17% said they have actually decreased prices this year.
The majority of small business owners cited the necessity to remain competitive as the primary factor preventing them from raising prices.
"Most small business owners know they could be more profitable, but also fear losing customers and not being able to stay in business at all," said SurePayroll President Michael Alter. "As a result, they are forced to avoid raising prices and look to other methods to increase or maintain profit, hoping economic issues work themselves out."

Rising Costs Attributed to Employee Salaries and Benefits -
When asked to identify the factor to which they most attributed the rising cost of running a small business, the largest group of respondents (38%) selected employee salaries.
The second largest amount (16%) noted rising costs of employee benefits as the most significant factor, followed by other elements such as raw materials, taxes and service fees.
According to SurePayroll's "Scorecard," a monthly economic indicator that identifies trends in the small business economy, salaries have been increasing for 23 straight months.
"It's getting increasingly tough to find good people, and the resulting labor shortage has driven up costs," said Alter. "Regardless of any financial struggles small business owners face, they must continue to offer highly competitive salaries and benefits to attract and retain the kind of quality employees necessary to keep their businesses running."
Small Business Owners Split Opinion on Government Influence -
As part of the survey, small business owners also voiced their opinion on how the current administration is impacting the small business economy. While the largest single group (42%) of respondents said the government has had a detrimental effect on the small business economy, 58% believed the government has had either a positive (24%) effect or no effect (34%).
Respondents' individual comments reflected the split in opinion:
"The state and federal government keep talking about the importance of supporting small business for its important role in hiring so many Americans, yet I - and many of my business owner friends - are not seeing any improvements or changes to help small business owners stay in business and make a living."
"Gas prices have hurt, but I don't blame it on our administration - it is larger then that. I would hate to see where I would be tax-wise if there were a different party in charge."
Additional Insight -
Some small business owners offered additional insight and advice on business growth in 2007 and beyond:
"Timings is everything. It takes a long time to plan, develop, implement and open a small business only to have the economic conditions change so dramatically in a few weeks time…the businesses that survive this mess will be strong when the economy turns around."
"Hire the best people. In a small business you cannot have any marginal employees."
"Every small business owner must be involved with their local community government and chamber of commerce, at a minimum. They should also participate - or at least belong to - state organizations that represent their industry. We cannot expect others to be responsible for our future…"
About SurePayroll:
SurePayroll is America's largest full-service online payroll provider. In addition to its payroll and ClickFREE™ tax file and pay service -- which allows a user to complete the entire payroll process in minutes -- SurePayroll provides HR and compliance resources, workers' compensation products and 401(k) retirement solutions designed specifically for small businesses.
SurePayroll also offers a private-label and co-branded payroll service to accounting and banking partners to offer payroll processing to their small business clients.
SurePayroll is passionate about small businesses and their payroll. The company is dedicated to providing an extremely friendly and simple payroll experience -- at a price small business owners can afford. For more information, visit http://www.surepayroll.com.
###