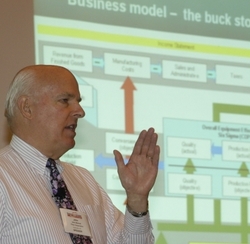 This event brings the best predictive maintenance solutions providers together with motivated maintenance and reliability professionals from around the world in an educational environment designed to optimize information exchange and networking
Fort Myers, FL (PRWEB) August 27, 2007
Reliabilityweb.com announced today that PdM-2007 - The Predictive Maintenance Technology Conference, collocated with LubricationWorld-2007 in Las Vegas is sold out for the second year in a row and no additional tickets are being sold.
Registration has just opened for Reliabilityweb.com's next conference, IMC-2007 - the 22nd International Maintenance Conference held December 4-7 in Daytona Beach, Florida.
PdM-2007 is a focused 3 day "community of learning" event and is attended by over 600 maintenance and reliability professionals including the world's most noted experts in Vibration Analysis, Infrared Thermal Imaging, Motor Testing, Airborne Ultrasound, Oil Analysis and Lubrication technologies.
IMC-2007 includes predictive maintenance together with Reliability Centered Maintenance, Maintenance Management, Computerized Maintenance Management, and Human Reliability. 2007 event sponsors included leading maintenance, reliability and asset management solutions providers such as Chevron, Timken, Commtest, and Allied Reliability.
"This event brings the best predictive maintenance solutions providers together with motivated maintenance and reliability professionals from around the world in an educational environment designed to optimize information exchange and networking" states conference organizer Terrence O'Hanlon, CMRP. "Reliabilityweb.com conferences focus on delivering value to everyone involved starting with the maintenance and reliability professional, followed by the sponsors and exhibitors - in that order. This allows for a much higher level of benefit for all parties as opposed to the traditional maintenance conference filled with consultant presentations and vendor sales pitches. We are fortunate enough to have enlightened sponsors who support the educational focus of this event. The audience validates the strategy of effective information exchange together with relationship building and is obviously responding by filling up this conference to capacity for the second year in a row. It is a win-win-win scenario."
The event also includes the presentation of the Uptime® Magazine (http://www.uptimemagazine.com) Predictive Maintenance Program of the Year Awards with winners from Duke Energy, Gallatin Steel, San Onofre Nuclear Generating Station (SONGS), ATA/Arnold Engineering Development Center, Calpine, Tinker Air Force Base, Virginia Department of Transportation, Hamilton Sunstrand, and General Motors Spring Hill Plant. These companies have demonstrated excellence in Predictive Maintenance and Lubrication and will be recognized for their achievements.
"Benchmarking data clearly shows that world class companies support attendance at conferences like PdM-2007 and IMC-2007 with over 67% naming educational conferences as the source for new strategies and technologies. World class companies not only have higher availability and uptime, they actually have a large maintenance cost advantage of the laggards. Over 70% of the laggards could not justify the expense of attending conferences and the results show in high downtime coupled with high maintenance cost," continued O'Hanlon. "It may seem ironic but it is actually less expensive to operate at world class maintenance and reliability levels than it is to operate as a laggard."
Predictive maintenance and machinery condition monitoring can predict the onset of failures in mechanical and electrical systems for in advance of human senses and allow the orderly scheduling of repairs to avoid costly downtime. More world class manufacturers, power and processing plants are moving toward less "reactive" breakdown maintenance and time based preventive maintenance to the more advanced strategies of predictive condition monitoring.
The next Reliabilityweb.com event is IMC-2007 - The 22nd International Maintenance Conference - December 4-7, 2007 in Daytona Beach, Florida. A special tour titled "Maintenance at the Kennedy Space Center" is included in this year's full conference program. More information can be found online at http://www.maintenanceconference.com
About Reliabilityweb.com:
Reliabilityweb.com http://www.reliabilityweb.com includes a network of maintenance and reliability web sites serving over 55,000 maintenance and reliability professionals from around the world. The site serves as a resource for Maintenance Managers and Reliability Engineers. Online tutorials, articles, case histories and news items are updated daily.
Trademark Notice: Uptime is a registered trademark of Reliabilityweb.com. The Predictive Maintenance Technology Conference and LubricationWorld are trademarks of Reliabilityweb.com. Other marks belong to their owners.
###