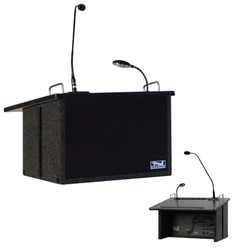 (PRWEB) August 23, 2007
For principals, park and rec directors, and other school or government presenters who've had to resort to permanent, full-size lecterns or resign themselves to poor speech quality from a portable lectern, the new Acclaim Lectern by Anchor Audio, the leader in portable public address systems, provides the power, portability, clarity, and convenience they've been seeking.
Instead of the inflexibility of a bulky, permanent lectern or the distracting hiss or volume changes of some portable lecterns or portable public address systems, the new Acclaim Lectern supplies 114 DB of crystal clear speech and sound and is capable of reaching crowds of 500+, with enough output to power a companion speaker if desired.
While weighing less than 35 pounds including a detachable 12V LED reading light and a 24" gooseneck microphone, the lectern offers more reach, clarity and convenience than any comparable portable PA system or portable sound system. The lectern base, in fact, also doubles as a portable transport case with tilt-n-roll casters for easy movement.
Unlike many portable public address systems, the unit's 16-channel UHF diversity wireless capability, ensures a clear, continuous signal even in the face of signal interference, since it allows changing channels until there's a clear frequency.
With true AC/DC capability and the ability to run 7+ hours on a charge using a rechargeable battery, the new lectern portable PA system portable sound system provides school and government customers with the flexibility for on-the-go, indoor/outdoor lectern use with uncompromising speech and sound quality.
With the wireless microphone option, educators, government presenters and others are free to move around with the full use of both hands for whiteboard writing, pointer display, gesturing, and other forms of enhanced communication, a capability not available in typical portable public address systems. An optional package includes a built-in wireless receiver and remote control, body pack and choice of a lapel microphone, headband microphone, collar microphone, or ultralite microphone.
Made in the USA, the Acclaim portable lectern sound system by Anchor Audio has a 6-year warranty, the industry's longest. Anchor Audio is the leading manufacturer of easy-to-use, high quality, portable public address systems. Anchor has specialized in portable audio for almost 30 years and has developed a range of sound systems to meet virtually any venue need.
For more info, visit http://www.anchoraudio-europe.com call +31-(0)73-648494; fax +31(0)73-6446583; write to Anchor Audio Europe, Herven 58, 5232 NJ's-Hertogenbosch, Netherlands.
###