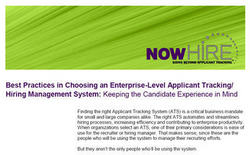 AutoZone provides a great example of how considering the candidate benefits everyone
Detroit, Mich. (PRWEB) August 23, 2007
When companies look for an ATS, they often overlook the very demographic the system is intended for: the applicants. This is the conclusion of a new white paper from nowHIRE, a premier provider of applicant tracking systems.
The white paper advises companies to consider the candidate experience when choosing an ATS, whether they hire exempt, non-exempt, contingent or a combination of employee categories. Because today's workforce is online-savvy, prospects won't tolerate career sites that are hard to navigate, waste their time or require excessive information.
Key points to consider when looking for an ATS include:

Understand who your candidates are: What language(s) they speak, their education level, how likely they are to find you on the Internet, where they are located, and so on will all determine how you construct your career site.
Make it easy to apply for positions: Make job listings easy to find and understand. Pick an ATS that lets you create a self-selection process that requires the minimum information from candidates.
Strike a balance between the back end and front end of the technology: Serve applicants and hiring managers alike with a user-friendly interface up front and a robust set of recruiting tools behind the scenes.
The paper includes an account of a company who carefully considered the candidate experience while shopping for an enterprise ATS. AutoZone has over 4,000 stores in the U.S., Mexico and Puerto Rico and hires both exempt and non-exempt workers. Using nowHIRE's ATS, AutoZone customized its online hiring process for the specific needs of each group. The company has seen a dramatic increase in the number of hourly candidates, and has decreased time-to-fill by 20 percent for corporate openings.
"AutoZone provides a great example of how considering the candidate benefits everyone," says nowHIRE's president, Joseph N. Impastato, II. "When applicants are treated like customers, they feel valued, which leads to good branding and higher application rates."
To download a copy of the white paper, Best Practices in Choosing an Enterprise-Level Applicant Tracking/Hiring Management System: Keeping the Candidate Experience in Mind, go to http://www.nowhire.com/register_whitepaper.htm.
About nowHIRE:
Since 1998, nowHIRE has been a premier provider of applicant tracking systems for companies of every size and in every vertical imaginable. Their industry-defining solutions feature fully integrated, web-based recruiting and applicant tracking software modules that allow companies to customize the software to their specific recruiting needs—whether it be for hourly, salaried, internal, contingent, recruitment-based or any combination thereof. nowHIRE's solutions give clients what they call "Zoom"—the competitive edge.
Media Contact:
Joseph N Impastato II
586-778-8491 (15)
Joseph.Impastato(at)nowHIRE.com
This press release was distributed through eMediawire by Human Resources Marketer (HR Marketer: http://www.HRmarketer.com) on behalf of the company listed above.
###