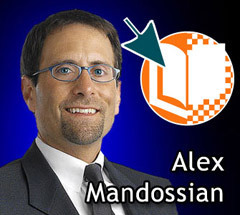 A single information product, a book for instance, can grow into a series of books, lecture tours, internet articles, training seminars, e-books and the list goes on
Novato, CA (PRWEB) August 23, 2007
Alex Mandossian, one of the top-ten Internet direct marketers in America, has just released another free article in his web site article series for authors. The article, "Book Marketing- Quick and Easy Ways to Create Multiple Books And Make More Money" is available for immediate download at http://www.AlexMandossian.com.
"Book Marketing - Quick and Easy Ways to Create Multiple Books And Make More Money" gives the reader valuable insight into how to create new products and multiple versions of an existing product without the pain and strain of developing them from scratch.
In this latest offering, Alex Mandossian details how to use a few simple techniques to take creative ideas and tailor them to generate more interest, reach more markets and increase profit potential.
"A single information product, a book for instance, can grow into a series of books, lecture tours, internet articles, training seminars, e-books and the list goes on," he said. "Taking a great idea and spinning off many great ideas is the cornerstone of repurposing content."
Upcoming articles will continue to address others ways to repurpose materials, as well tips for authors to harness technology and different target markets. Readers will learn:

How authors can start the process, even if they don't have a book yet.
Simple ways to flow from one repurposed package to another.
Many other quick and easy ways to repurpose content.
Why repurposing is so profitable (and how you can do to make the most money while taking the least amount of time)
How one author increased the price of his book by 500% and turned it into a best seller (and how you can do it too).
Why customers want (and will buy) repurposed content in multiple forms. (In fact, if you don't offer your content in multiple ways, you're leaving money on the table and doing a disservice to your customers)
Why you have a responsibility to get your message out into the world in as many forms as possible.
To access the complete article series, visit http://www.AlexMandossian.com.
Alex Mandossian has consulted Dale Carnegie Training, NYU, Agora Publishing, Mutuals.com, Pinnacle Care, Strategic Coach, Trim Spa as well as thought leaders such as Jack Canfield, Vic Conant, Mark Victor Hansen, Les Brown and many others. He is the CEO and Founder of Heritage House Publishing, Inc.
More information can be found at http://www.AlexMandossian.com , and his Virtual Book Tour Secrets can be found at http://www.VirtualBookTourSecrets.com.
###