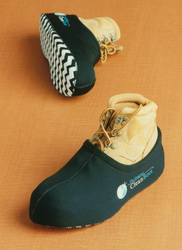 Pittsburgh, PA (PRWEB) August 24, 2007
Intromark Incorporated introduces The Original Cleanboot™, footwear that slips over work boots to protect carpeting and flooring from dirt and markings. The Original Cleanboot™ eliminates the need for construction workers, plumbers or other workmen to take off their boots or shoes when entering customers' homes or businesses.
The Original Cleanboot™ are made of Neoprene and are lightweight, flexible and slip on and off easily. They are reusable and can be worn over and over again. The Original Cleanboot™ enables workers to keep protective footwear on when in a client's home. This not only saves time but also helps to eliminate accidents or foot injury. The Original Cleanboot™ also features rubber grippers on the bottom of the footwear.
The Original Cleanboot™ is available in small, which fits men's shoe sizes 6.5 to 8.5 medium, which fits 8.5 to 10.5 and large, which fits 10.5 to 12.5. Suggested retail price $24.95.
Intromark Incorporated, a new-product licensing and marketing firm, is seeking marketers and distributors in the apparel, construction and building trade industries. Intromark Incorporated can also offer companies access to an ongoing source of patented and unpatented inventions matched to specific areas of interest. Access to these inventions is free to companies that manufacture or market new products.
For more information or for ordering, contact Intromark Incorporated, 217 Ninth St., Pittsburgh, PA 15222; call (800) 851-6030 or (412) 288-1368; fax (412) 338-0497.
###