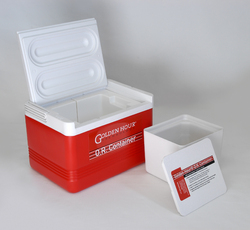 Plymouth, MN (PRWEB) August 27, 2007
Minnesota Thermal Science, LLC has announced the introduction of its thermal container designed to safely transport blood to the operating room and to store the blood in during surgery. This unit was made to displace the ineffective practice of hospitals using coolers loaded with wet ice or gel packs to store blood in for use during surgery. A major benefit of this new container is its ability to reliably hold blood within the FDA defined storage requirement of 1° to 6°C for up to twelve hours.
This fully reusable container does not rely on wet ice. Embedded within the walls and lid of the removable, reusable inner chamber is a PCM (phase change material) that locks in the temperature of the entire payload area at 4°C. The inner chamber is easily staged for use by being stored in a freezer or refrigerator.
One early adopter of the container is Mary Rose Jones, MIM MT (ASCP) SBBI, Blood Bank Supervisor at Memorial Hospital in Belleville, Illinois who commented, "We have tested many containers but nothing we have found works as well and as many hours as the Golden Hour O.R. containers. It is easy to use and eliminates our reliance on wet ice. In our validations, we have shown that blood returned in these containers met the regulatory storage temperature requirement of 1° to 6°C. Blood units can be reinstated into the blood inventory and not discarded."
This product was inspired by comments from members of the American Association of Blood Banks (AABB) regarding the need for better thermal protection of blood products within the hospital environment. Their requirement was a natural opportunity for Minnesota Thermal Science to adapt its technology to a new market segment. The Walter Reed Army Institute of Research has validated use of the new container and will present its findings this October during the annual AABB conference.
Minnesota Thermal Science offers a complete line of shipping and storage containers for the blood industry to accommodate a wide range of product and usage applications. Its patented "Golden Hour Technology" has received an "Army Greatest Invention" award based on its original medic pack, which makes it possible for combat medics to bring blood into far forward areas.
Please contact: Karl Schlenker, VP, Sales: 763-412-4812
###