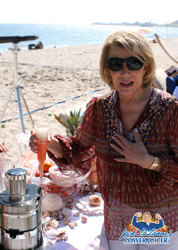 We were honored to be at this gathering to share the healthy goodness of fresh juice and the love of her family and friends
Fairfield, NJ (PRWEB) August 27, 2007
Stealing some quiet moments from a busy performance schedule, Joan slipped out of San Francisco Sunday where she is performing the "Joan Rivers Theatre Project." Her venue was the radiant beach at the Silver Spoon Beach House in Malibu where daughter Melissa brought friends and family together to share, break bread and to drink juice provided by the Jack LaLanne Juicing Team.
"Joan is a terrific entertainer and an icon," said Keith Mirchandani of Tristar Products, the marketer of the Jack LaLanne Power Juicer line. "We were honored to be at this gathering to share the healthy goodness of fresh juice and the love of her family and friends," he added.
The Jack LaLanne Power Juicer line has been a best seller for Tristar Products for several years and is increasingly featured at busy entertainment events as an alternative to other beverages. Among its many benefits, the Power Juicer can deliver 30% more juice than most juicers on the market and comes with an lifetime guarantee.
The Jack LaLanne Power Juicer Pro can be purchased at http://www.powerjuicerpro.com .
About Tristar Products
Tristar Products Inc. is the leader in Direct Response Television advertising and product development. Led by CEO Keith Mirchandani, Tristar Products has a proven track record of turning innovative ideas into best-selling brands such as Don Brown's Ab Roller, Jack LaLanne's Power Juicer, Hulk Hogan's Ultimate Grill and Brenda DyGraf's AirClimber.
Contact:
Alain Jourdier
Savvy Agency
888-667-2889
# # #