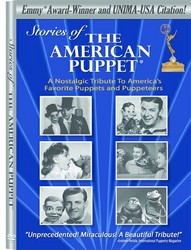 Stories of The American Puppet
Bristol, CT (PRWEB) August 28, 2007
Howdy Doody. Charlie McCarthy. Lamb Chop. Kermit. These are some of the most notable names in entertainment. They are some of the most endearing characters, beloved by millions. And they all are puppets. All part of a distinguished and highly cherished art form spanning an incredible 300 years. Now you can discover the fascinating and colorful history of puppetry in America in the engaging documentary "Stories of The American Puppet," available on DVD Sept. 18, 2007 from Mazzarella Media.
Produced and directed by Mark Mazzarella, who also co-wrote the documentary with his brother Tony Mazzarella, "Stories of The American Puppet" originally aired on PBS and won an Emmy® in 2001 for Outstanding Writing. Narrated by Dan Lauria (The Wonder Years), "Stories of The American Puppet" brings the story of American puppetry to life through archival film, rare photographs, historical reenactments, insightful interviews, and in depth profiles of some of the most influential puppeteers of the 20th century, including Jim Henson, Shari Lewis, Paul Winchell and Edgar Bergen. Suggested retail price for the 58-minute DVD is $19.95.
"The art of puppetry has made a huge impact on American entertainment and our cultural heritage," said Mark Mazzarella, the brainchild behind the project. "But people also need to know that there's an artistry and special talent involved from designing puppets and conceptualizing their personalities, to manipulation of their movements and to storylines that are unique to the puppets' personalities. That's what 'Stories of The American Puppet' is all about."
This expansive documentary chronicles puppetry evolution from the 18th-century street puppets Punch and Joan (later better known as Punch and Judy) to the 20th-century Muppets, highlighting many of the puppeteer masters and classic characters that have shaped American culture. The film beautifully illustrates the passion behind the art of puppetry and how the masters of the craft have constantly and fervently striven to raise the level of performance and create a truly iconic theatrical experience.
Beloved ventriloquist, puppeteer, performer and host of her own television shows and award-winning videos, Shari Lewis, gives her last interview and shares her belief that "You can only really bring to life a puppet that is a facet of you. You have to let the puppet tell you if it wants to talk. Maybe the answer to longevity is the truth of the character." Lewis, who passed away in 1998, created some of the most well known and loved puppet characters including Lamb Chop, Charlie Horse and Hush Puppy.
Other puppeteer masters profiled include Tony Sarg, German-American puppeteer and illustrator who has been referred to as "America's Puppet Master" and as the father of modern puppetry in North America; Edgar Bergen, actor, radio performer and ventriloquist, best known for his performances with sidekick Charlie McCarthy (and father of Candice Bergen, Boston Legal, Murphy Brown); Robert Emil Schmidt, a.k.a. "Buffalo Bob" Smith, host of the iconic 1950's Howdy Doody children's show; Paul Winchell, ventriloquist, creator of Jerry Mahony and Knucklehead Smiff and early television pioneer; and Jim Henson, film director, television producer, creator of The Muppets and perhaps the most widely known American puppeteer in modern American television history.
"Jim felt he could reach people in a very universal way," reminisces interviewee Jane Henson about her late husband's work with modern puppetry. "He wanted to be someone who made a difference."
Additional interviews include Bart Roccoberton, University of Connecticut Puppet Arts; Margo Rose, former Tony Sarg puppeteer; Allen G. Cook, noted puppet collector; John Bell, professor of theatre, Emerson College; Steve Abrams, president, Puppeteers of America; and Vincent Anthony, founder, Center for Puppetry Arts, Atlanta.
"We are delighted to present many of the performances in their entirety on the bonus extras section of the DVD," said Mazzarella.
To order "Stories of The American Puppet" call 1-800-583-1988.
About Mazzarella Media
Mazzarella Media (http://www.mazz.com) is an Emmy award-winning company that develops products to foster the fun and excitement of learning. Their products are designed to get kids thinking about themselves and the world around them and to enhance intellectual, social, emotional and physical growth by stimulating the imagination, nurturing creativity and developing a love for learning. The company has released a multitude of programs including the multi-awarding-winning children's Monkeydoos fitness DVD series, Potty Power!, which teaches children potty training in an engaging musical format; and several titles in the Thinkeroo line of science programs including Spacetrekkers, Rock Finders and Bio Trackers. Their educational division recently released Exploring Our Past: Native Peoples of North America, an engrossing five-part DVD series narrated by Grammy® award-winning singer-songwriter Joanne Shenandoah, which introduces young viewers to the many Native American tribes that have lived in the vastly diverse regions of the country.
Extras on "Stories of The American Puppet" DVD include expanded footage of these performances:

Tony Sarg's Stonehenge Circus: Tony Sarg produced a series of animated shorts Tony Sarg's Almanac, which featured prehistoric silhouetted characters using stop action. Sarg offered a different take on the relationship between prehistoric man and their animal counterparts in The First Circus (1921). The film's intertitle announces, "In 1871 P.T. Barnum started his now world famous circus . . .but he was small potatoes compared to Stonehenge Circus 30,009 years ago." The audience watches as anachronistic acrobats wielding sticks use a dinosaur for a trampoline and a tightrope.
Tony Sarg's Arabian Nights: Marionette show
Margo and Rufus Rose Films: "Treasure Island", "Rip Van Winkle", Marionette Shows
Remo Bufano Performance: This performance was at UCLA. Bufano used 9 foot tall rod puppets. The most spectacularly prominent art-theatre puppeteer was Remo Bufano, who emerged. from New York's little theatre movement to create not only art-theatre but included large puppets.
Thomas Edison's "Dancing Chinamen:" An 1898 Edison film, Dancing Chinamen-Marionettes, consists of one scene -- a stage set on which are two marionettes on strings next to each other. During the brief film, the marionettes are pulled up by strings above, then quickly let down until they sit on the ground doing splits, pulled up, let down, pulled up, let down, and so on. This movement within the static shot creates an image of a strangely multijointed body, a body that is definitely "foreign" -coded as "Chinese." Such a mobile body, whose limbs seem to be able to perform physically impossible feats, reveals a strange fascination with precisely this kind of "strange" body and, at the same time, a considerable aggression. After all, the marionettes are on strings, moved by an invisible hand.
Shari Lewis: Shari Lewis & Lamb Chop "Christmas" Show they sing Jingle Bells
Howdy Doody: Howdy Doody Theme Song and Howdy sings a Friend Song
Paul Winchel: performs on a variety show with Jerry Mahoney,
Rootie Kazootie Club: Piece of the Rootie Kazootie show:If you're a babyboomer kid like me, who grew up watching television in the 1950's, you'll remember the name ROOTIE KAZOOTIE, almost as well as you know your own name. It's a memory flash to our childhood past, and images of a by-gone era, lost and forgotten in time, when puppets and their human hosts first dominated the Saturday morning air waves, all at the start of the Golden Age of Television.
Bur Tillstrom's "Berlin Wall": Although he is most closely identified with Kukla, Fran and Ollie, Tillstrom was featured on the series That Was The Week That Was (TW3) in 1964 without the Kuklapolitans. He won a special Emmy award for a hand-ballet symbolizing the emotional conflicts caused by the Berlin Wall crisis. His work on TW3 was cited by the George Foster Peabody committee which, in 1965, decided to recognize distinguished individual achievements rather than general program categories after chiding the radio and television industry for "a dreary sameness and steady conformity" in its programming.
Kukla, Fran and Ollie: Excerpt from the TV show: Sing a love song
Foodini The Great: Excerpt from the TV show: Foodini began his career in 1948 on a show called "Lucky Pup." In one episode Foodini the magician tried to swindle a dog that had received a large inheritance. He became so popular that the series' name was changed to "Foodini the Great." Foodini was assisted by his inept assistant, Pinhead. The show was performed live for 15 minutes Monday through Saturday and ran from 8/23/48 through 6/23/51.
Bill Baird's "Life with Snarky Parker": Excerpt: LIFE WITH SNARKY PARKER/CBS/1950, an earlier marionette show created by the Bairds. Snarky Parker was a deputy sheriff of a western town of Hot Rock during the 1850s. With the aid of his talking horse Heathcliffe, he rid the town of Hot Rock of such dangerous critters as Ronald Rodent and Blackie McGoo. Additional characters included Cuda Barra, a siren; Miss Butterball, the school marm; Slugger, the Hot Rock Cafe piano player; Noose Nolan, a reformed desperado; and Fluff Webster, his partner.
###