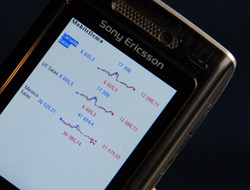 The goal we've had when designing our new product series has been immediate value. This means more than the immediate value for the business person using the system
Los Altos, CA (PRWEB) August 28, 2007
Web 2.0 and advanced mobile environments aren't the only agents of change in Business. What used to be specialized applications will still reign in the high end domains, but for most users the advanced functionality of Performance Dashboards and Scorecards will reside within the applications themselves, that is in the familiar work context of each business person. Since long committed BI toolmaker DSPanel adds functionality to its latest product, Performance Canvas 2007 to bring the promise of BI to small and mid-sized business.
Aimed at giving the benefits of modern Business Intelligence and Performance Management tools earlier only accessible and affordable by large organizations into the small and medium business segment, DSPanel has upgraded its Performance Canvas 2007 product with additional features making it possible to add BI and performance management capabilities to any application, whether working as an ISV or developing software for a particular customer.
"There is a huge unrealized potential for Independent Software Vendors (ISV) today in supplying integrated Performance Management solutions, Dashboards and Scorecards with their solutions," says Niklas Derouche, CTO of DSPanel. "Having worked with our current OEM customers has really changed my perception of the delivery of Performance Management to the masses in the future. I'm thrilled to see how the openness of our new Performance Canvas product really creates new ways of adding value to almost every application with data out there today."
The top features highly appreciated by OEM customers of DSPanel Performance Canvas today are the multi-canvas publishing for Microsoft Office SharePoint Server, Full zero-footprint AJAX enabled Web 2.0 interface, automated publishing for mobile devices such as blackberries and mobile smart phones and enabling users to access BI and Performance Management data such as Performance Dashboards and Scorecards through a regular search interface such as Microsoft Enterprise Search or Google OneBox.
"The goal we've had when designing our new product series has been immediate value. This means more than the immediate value for the business person using the system," says Jan Morath, CEO of DSPanel. "Manifested in offerings like our OEM End-to-End 30 day time-to-market guarantee we're delivering immediate value to modern ISVs in any software category today. Building on our long-term commitment to our current OEM customers we see this as a way where we can take part in changing the industry by giving smaller companies the powerful tools and technologies previously available only to large enterprises."
DSP Performance Canvas 2007 gives provides immediate business value on top of the Microsoft BI Platform featuring advanced support for communication, collaboration and actions. The software works with Microsoft Office SharePoint Server 2007, Microsoft SQL Server 2005 and the Microsoft Office productivity suite including Outlook, PowerPoint, Word and Excel.
For further information please visit DSPanel
Notes to Editors:
About DSPanel:
DSPanel is a global Microsoft Gold Certified ISV Partner specializing in delivering advanced performance dashboard and scorecard technology for ordinary business users, using everyday business terminology, on top of the Microsoft BI platform. DSPanel's products, Performance Canvas and Portal Edition, are used to create BI Web Parts for presenting information from a Data Warehouse within Microsoft Office SharePoint Server or Windows SharePoint Services. DSP Portal Edition is sold through reselling partners worldwide and through OEM deals as part of integrated BI Solutions. The company focuses heavily on end user driven innovation, along with superior performance and software flexibility, thus providing a competitive edge to our Customers and Partner in real time decision making and action.
DSPanel is a Microsoft global Gold Certified ISV Partner. DSP Clients include LendingTree, Recall, V&S Group (Absolut Vodka), Bosch Rexroth, 3GIS, First National Bank and Allgon.
For further press and photography contact Jan Morath, CEO at DSPanel, phone +46 (768) 866 468
Decision Support Panel International
fax +46 (8) 5560 5686
###