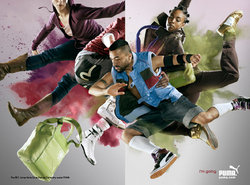 The series of images abstracts the idea of being active in a way that is both visually arresting and sophisticated.
Cambridge, MA (PRWEB) August 28, 2007
Known for portraying a collision of lifestyle fashion, color, and bodies in motion, PUMA revealed a new advertising campaign for its popular "I'm Going" series. Similar to previous campaigns, the new ads express movement, athleticism, and progression, combined with explosions of neon color. Frozen in time, the color adds an intensity and power to the highly composed and sophisticated images.
For the third consecutive season, PUMA® has partnered with Tank Design, a strategic branding and design firm based in Cambridge, MA, for their latest fall fashion campaign. To capture the spirit of "I'm Going", PUMA looked to famed 2007 Tony Award-Winning New York dance troupe, Bill T. Jones/Arnie Zane Dance Company, known for their modern, avant-garde work. The dancers worked with acclaimed fashion photography-team Guzman, and producer Steven Pranica to enter the contemporary, stylish, fantasy world that is "I'm Going."
"The 'I'm Going' campaign is consistently about innovation and emotion -- you open a magazine and the ad literally jumps out at you," said Antonio Bertone, Group Functional Director Brand & Marketing PUMA International. "The photos are about bodies, products, and colors -- rather than pretty faces. The Bill T. Jones/Arnie Zane Dance Company was instrumental in making the campaign the huge success that it is."
"Ultimately the campaign is about the combination of energy and elegance," says David Warren, creative director and founder of Tank Design. "The series of images abstracts the idea of being active in a way that is both visually arresting and sophisticated."
Photographed in New York City earlier this spring, the creative dance imagery comes in eight different iterations called Getaway, Glide, Jump, Reach, Rush, Stretch, Swing, Twist. The campaign features products from PUMA's recently launched Urban Mobility Collection -- accessories for the on-the-go urban dweller. Highlights from the Urban Mobility Collection include Extreme Shopper, the X-ray belt, Utility Shopper, and the Urban Mobility Edition Bag.
Since 2005, the close collaboration between Puma and Tank Design has included several successful launches including Puma Women, the new Complete Bodywear line, a collection with Marcel Wanders, and Puma Rugby in conjunction with this fall's World Cup in France. "Working with PUMA has been an amazing experience for us creatively," says Rob Alexander, creative director with Tank Design. "There is a sensibility and a tone of voice that is truly unique to the brand. We've really enjoyed challenging ourselves to find new and interesting ways of communicating those attributes
The campaign appears this fall in multiple US and European publications including Maxim, Stuff, Details, Lucky, Jane, Elle, and InStyle. It can also be used for point-of-sale, catalog and online adaptations.
###