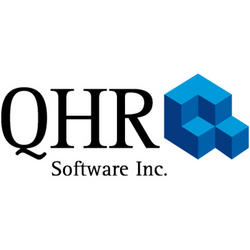 Kelowna, BC (PRWEB) August 28, 2007
QHR Software Inc. has launched its newest recruiting feature, QHRnet Recruiting, which provides Applicant Tracking System (ATS) technology accessible via the Internet in an easy to use, secure format. Designed for corporate recruiters and managers, QHRnet Recruiting is a module offered as part of the company's integrated human resources, staff scheduling and payroll software called Quadrant HR.
QHRnet Recruiting is the latest addition to Quadrant HR's employee and manager self-service module called QHRnet and replaces an earlier web applicant tracking module. QHRnet Recruiting helps people simplify the recruiting process while becoming more proficient in their jobs.
Some new benefits for users of QHRnet Recruiting include:

Web-based, self-service access gives managers and recruiters the freedom to create and add job postings to their corporate website, reducing requests to recruiting/HR departments.
Automated resume ranking instantly identifies the most qualified applicants and eliminates the time consuming process of manually reviewing and sorting resumes -- leaving more time to focus on other priorities.
Provides a central place to track applicant details, interview notes, reference checks and miscellaneous documents -- providing easy access to information while ensuring consistency and confidentiality.
To view a 25-minute QHRnet Recruiting webinar, please visit http://www.qhrsoftware.com/webinars.html.
About QHR Software Inc.
QHR Software Inc. is an innovative leader in the creation, delivery and support of powerful integrated HR solutions. Its software, Quadrant HR™, is a user-defined, configurable solution integrating best practices for Human Resources, Staff Scheduling and Payroll into a single system. Quadrant HR™ is designed to improve employee processes from 'hire to retire' for simple to complex workplaces. Proven in the healthcare sector, the clear advantages of Quadrant HR™ are being discovered by other industries such as government, forestry and public security, where complex labor rules require robust HRMS automation tools.
For more information, contact:
Cindy Danielson, Marketing Manager
Direct Tel: (250) 979-1716
Toll-Free Tel: 1-866-863-4431
Fax: (250) 717-5266
QHR Software Inc.
210 - 1632 Dickson Avenue
Kelowna, BC V1Y 7T2
http://www.QHRsoftware.com
This press release was distributed through eMediawire by Human Resources Marketer (HR Marketer: http://www.HRmarketer.com) on behalf of the company listed above.
###