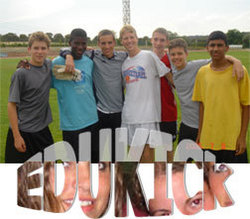 Our soccer boarders attend technical training sessions daily under the direction of our professional coaching staff.
Oakville, Ontario (PRWEB) August 28, 2007
EduKick, a leader in international soccer training programs, announces enrollment for their 2007-08 academic yearlong soccer training programs in Europe.
EduKick offers study abroad soccer courses in three countries, Italy, Spain and England, for both high school and college players. All three countries offer yearlong options, starting in September 2007 and ending in June 2008. Half-year options are also available.
"The EduKick yearlong boarding schools provide serious soccer players the opportunity to spend an entire year abroad playing in Europe," said Jon Morgan, general manager of EduKick. "Our soccer boarders attend technical training sessions daily under the direction of our professional coaching staff."
Morgan has witnessed the growth of players who attend the program. "Players who undergo this training develop substantially as players technically and tactically, and they mature considerably as young adults," he said.
In Italy and Spain, high school players attend local public schools, where they study the national curriculum in that country's language for a total immersion experience. College players will attend local universities, the University for Foreigners Perugia in Italy and the University of Madrid Complutense in Spain.
High school players in Italy room and board at the school, where resident teachers supervise, and college players live in their own apartments. In Spain, both the university and high school players live in the Hotel F&G, along with the EduKick Madrid bilingual adult coordinators.
In England, players stay in a "home stay" environment, where they will have their own room with an English family. The academic program is a "football studies" course at Myerscough College, and players will train with the technical football staff of the Blackburn Rovers Football Club, one of England's Premiership professional football clubs.
All three study abroad soccer boarding schools have 2-3 hours a day of intensive soccer training under a dedicated and professional soccer staff. England and Italy also have half-year programs that begin in January 2008 and end in June.
"Attending a European-based yearlong soccer boarding school is much more effective in developing quality young soccer players than attending summer camps and the periodic club training." said Joey Bilotta, Vice President of EduKick. "The reason is that our boarding school player's train daily under our professional coaches for a prolonged period of time…in competitive and professional soccer environments. The daily training enables them to receive regular feedback and instruction, so it's easier to find and fix player's technical and tactical weaknesses and develop their strengths."
According to Bilotta, more than 46 players from all over the world have already registered for the 2007-08 soccer boarding schools.
"We have players attending this year from the U.S., Canada, Mexico, Asia, Africa, Europe, South America and many other countries," said Bilotta. "It's exciting to see the attendance of so many players from across the world…all of them sharing the same love and passion for the beautiful game we all adore."
For more information about EduKick's soccer boarding school programs, including how to enroll, visit eduKick.com.
About EduKick, Inc.:
EduKick's mission is to provide intensive soccer development training programs that also teach youngsters about cultural diversity and foreign languages. As professionals, soccer fanatics and fathers, Joseph Bilotta and Corey Zimmerman wanted to create programs that maximized the EduKick youth's time abroad; instilling a sense of independence and pride through experiencing international travel, structured language study, cultural excursions, and daily professional soccer training.
Press release writing and optimization by Xeal Inc.
###