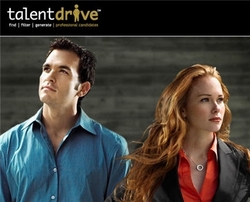 It's important to have the technology that can quickly and efficiently retrieve resumes from the Web. But it's just as important to have experienced industry analysts filter through the clutter. They bring to the table a hiring manager's point of view that can be invaluable for recruiters
Chicago (PRWEB) August 28, 2007
With more than 35 million resumes dispersed over 40,000 online locations, recruiters and hiring managers are spending more than 65 percent of their time searching the Web for qualified resumes. TalentDrive, an innovative resume sourcing and screening company, is the first company to fill an important gap by bringing together the art and science of online recruiting to help increase a recruiter's productivity by 90 percent.
"There are a lot of resume sourcing companies out there, but TalentDrive is one of the first to bring together the technology of searching for quality resumes at every corner of the Internet and the art of experienced eyes-on review for a guaranteed resume match," said Sean Bisceglia, chief executive officer of TalentDrive. "We don't stop searching and reviewing until we provide a solid pipeline of candidates for our clients."
According to a recent WEDDLE'S research report, the Internet is among the most effective methods recruiters now have for acquiring top talent and, ultimately, for winning the war for the best talent. However, sourcing resumes from online locations and sifting through piles of unqualified resumes can be very time consuming and overwhelming. TalentDrive combines technology with industry analysts to provide companies with a strategic sourcing service that delivers quality talent more efficiently.
Where science meets art - combining technology with eyes-on review:

TalentDrive's proprietary technology performs customized candidate searches, uncovering quality resumes from over 40,000 Web locations.
Resumes are then pulled through a filter where they are scored through a set of highly defined algorithms.
TalentDrive has 75, U.S.-based industry experts with more than 15 years of experience, who personally evaluate each resume, selecting the right individuals who match specific standards and qualifications. This provides TalentDrive clients a pipeline of the most qualified talent that translates to more quality hires.
"It's important to have the technology that can quickly and efficiently retrieve resumes from the Web. But it's just as important to have experienced industry analysts filter through the clutter. They bring to the table a hiring manager's point of view that can be invaluable for recruiters," said Bisceglia. "TalentDrive has mastered the science and the art of online resume sourcing , allowing recruiting organizations to focus on in-depth assessments, negotiating offers, and hiring the right candidates."
Bisceglia further explained the science behind TalentDrive's approach is well beyond spidering technology. TalentDrive's technology is an application that runs on TalentDrive's computers as opposed to product that runs on an application service provider's system. When a search is initiated against Web locations, TalentDrive's technology interacts with the Internet browser to run the search and retrieve answers. Resumes flow directly from the website's server to TalentDrive.
In accessing online locations, TalentDrive maintains thousands of valid subscriptions and abides by all login procedures. Searches scour entire sites for the best resume matches, unhindered by website firewall protection against spiders.
TalentDrive's industry analysts are seasoned hiring managers within various industries with the experience and intuition needed to effectively review and select a resume match. They go beyond the review process and contact prospective talent with a customized email and conduct phone interviews to further refine the prospect list.
About TalentDrive
TalentDrive provides growing and established companies with a new way to source and screen quality talent through innovative technology combined with eyes-on review by experienced industry experts. With millions of resumes dispersed over tens of thousands of web-based locations, TalentDrive provides a resume sourcing solution that enables companies to better leverage the Internet to find talent within Sales, Manufacturing and Distribution, Information Technology, Finance/Accounting, and R&D/Engineering. TalentDrive enables companies to spend less time sifting through unqualified resumes, helping to increase a hiring managers' productivity by 90%.
Additional information on TalentDrive services is available at http://www.talentdrive.com, or by calling 866.916.2249.
Contact:
Kelly Shumaker
720.938.5646
kshumaker(at)talentdrive.com
This press release was distributed through eMediawire by Human Resources Marketer (HR Marketer: http://www.HRmarketer.com) on behalf of the company listed above.
###