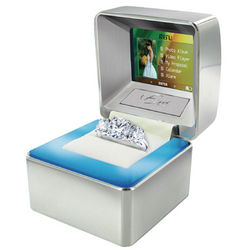 The Euricase can follow the journey of your life and love. The possibilities are endless. You can download movies or audio and your loved one can enjoy and relive the happiest moments of their lives
Torrance, CA (PRWEB) August 28, 2007
That moment has come. It's time to pop the big question and present the ring. But you are nervous. You want your wedding proposal to be perfect, memorable -- and successful. If only you had rehearsed more. If only your best performance had been recorded and made into a movie. Yes! A message so romantic that your sweetheart swoons every time she watches it. And she watches it a lot.
Impossible dream? Not any more. With the help of a gorgeous ring box that mates jewelry and technology you can now personalize and perfect your amorous intentions -- before the big moment. Developed by Euri, Inc., a California-based firm, the elegant ring box is a veritable light show of devoted love. Open it and you'll find a brilliant 2-inch LCD screen that allows you to display a video or slide show, all of which can be downloaded via a USB port.
Imagine the look on your lover's face when she opens this classic box and beholds a beautiful message from you that touches her heart. Already attached? Then deepen and enrich your life-long journey of love by capturing key moments with family and friends. That means for wedding proposals, holidays, anniversaries or any moment you deem exceptional or silly or sexy. The boxes are available in a glossy acrylic finish as well as a metallic satin finish that shimmers in your hand.
But there's more. The ring -- yes, let's not forget the ring -- is set in the finest velvet or leather which is surrounded by soft-hue perimeter lighting. Many colors are available for the setting and lighting.
How many ring boxes get thrown into the dark corner of a desk drawer after the diamond has been slipped onto the finger of the beloved? Most. But the Euri ring box is destined to have a long and glorious run on a shelf, mantle or desktop. Why? The box has plenty of memory. So, just because you romanticized it with your proposal video -- or a kiss under the mistletoe or, uh, satin sheets -- doesn't mean you have to stop there. Add photos and other videos of those moments you only wish you could relive.
Euricase also makes it possible for soldiers, children, truckers, and long-distant lovers to be home for the holidays -- even when they can't be. It's truly the next best thing to being there when being there is important.
Inventor and Euri owner Danny Oh's long career in the semiconductor industry includes components and patented electronic solutions that are now used in products manufactured by such firms as Samsung, Motorola and LG. But Oh is impressed more by love than his high tech accomplishments.
"The Euricase can follow the journey of your life and love. The possibilities are endless. You can download movies or audio and your loved one can enjoy and relive the happiest moments of their lives," he said.
For more information about the Euricase ring box visit the Euri website or call toll free (888) LUV EURI.
Douglas Glenn Clark is a freelance writer based in Los Angeles, California
Josiahs Livingston
Euri, Inc.
http://www.euricase.com
310-320-0776
###