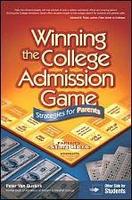 'Winning the College Admission Game' exposes common myths about the college admission process
Lawrenceville, NJ (Vocus) August 28, 2007
Each year, millions of college-bound students and their families are caught up in the college admission frenzy when hopes of "getting in" seem to hinge on working with the most expensive admission consultant, the best test-prep class and the frame of mind of the mysterious admission committee. With the help of a new book, "Winning the College Admission Game", published by Peterson's, a Nelnet company, students and parents can transcend the hype by approaching the college planning process sensibly.
Written by Peter Van Buskirk, former dean of admission at Franklin & Marshall College, "Winning the College Admission Game" is presented as a "flip-book," or two books in one, providing strategies for finding and getting into the college best suited for the student, with specific advice for both parents and students.
"'Winning the College Admission Game' exposes common myths about the college admission process," says Del Franz, editor-in-chief at Peterson's, a leading provider of education and a career guidance. "The author takes a truly student-centered approach to providing practical advice that helps students find and get into the college that fits them best."
"Winning the College Admission Game: Strategies for Parents and Students" by Peter Van Buskirk is available wherever books are sold. According to Edward Fiske, author of the Fiske Guides to Colleges, Van Buskirk speaks with the wisdom of both a veteran admission officer and a loving parent.
A 25-year veteran of the selective college admission process, Van Buskirk aims to promote a healthy student-centered college-going culture for families of all backgrounds.
More about Peterson's, a Nelnet Company
Peterson's Nelnet, LLC, a wholly owned subsidiary of Nelnet, Inc., (http://www.petersons.com) is a leading provider of online and print educational solutions for students, families, schools and educators in the areas of test preparation, admissions, financial aid and career guidance. Its Web site offers searchable databases and interactive tools for contacting educational institutions, online practice tests and instruction and planning tools for securing financial aid.
Media contact:
Krisztina Vida
Public and Media Relations Manager
609-896-1800 Ext. 53146
# # #