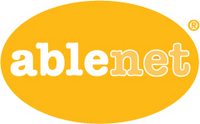 Research indicates that when students select their own books to read, their literacy levels improve
St. Paul, MN (PRWEB) August 29, 2007
For years, finding curricular programs that delivered standards-based results for elementary and secondary students with broad range of physical and cognitive disabilities was virtually impossible. To fill the void, AbleNet met the challenge with two special education curricula, Star Reporter and MEville to WEville, each based on research. Needless to say, special education teachers and district administrators were thrilled to have curricula developed specially for students with moderate to severe disabilities.
Today, AbleNet announces a new partnership with SoftTouch, Inc., an industry leader in the development of software that teaches computer access, choice making and literacy skills through a variety of engaging applications developed for students with moderate to severe disabilities. Under the exclusive agreement, SoftTouch will lend its expertise to the development of AbleNet's new literacy software. The products will not be sold as stand-alone offerings; instead they are being developed for the express purpose of bundling with AbleNet's special education curricula.
"We chose SoftTouch as our technology partner because, historically, their software offerings support our belief that every student, regardless of ability, can communicate, participate, learn and show measurable progress," said AbleNet CEO Jen Thalhuber. "Bundling software with our elementary and secondary special education curricula will bring added value to the classroom by providing more opportunities for students to enhance their development through on-computer activities. By aligning software with our curriculum we now have the ability to help educators continue to emphasize the key aspects of our curriculum so their students can reach their individual potential."
The bundled software package will initially include 25 classroom-ready electronic books based on SoftTouch's "My Own Bookshelf". This tool not only allows teachers to access pre-produced books or create customized books using photos, movies, text and sound files, including text-to-speech functionality, it also allow teachers to save the books to an individual student's electronic bookshelf.
"Research indicates that when students select their own books to read, their literacy levels improve," said Mark Fulton, President of SoftTouch. "This platform gives students the ability to select their own books and to read them as often as they wish. In addition to building computer access, choice making, and reading skills, this exclusive AbleNet offering will enhance each student's literacy experience. We're excited about playing a role in the development of AbleNet applications and are proud to put the 'Powered by SoftTouch' label on them.
About AbleNet
AbleNet, Inc., offers a complete line of assistive technology products, including communication aids for non-verbal students; access aids, such as switches and wheelchair mounting devices for students who require physical supports; and classroom tools that can be used by any individual student or during group activities. The company is also recognized for developing research-based special education curricula that meet state and federal mandates.
Located in Roseville, Minnesota, AbleNet Inc., is an ESOP company that employs 35 people and sells its products through a network of distributors in 49 countries. AbleNet's products and programs have been used in tens of thousands of classrooms nationally for more than 20 years. For more information, visit http://www.ablenetinc.com.
About SoftTouch
SoftTouch develops software for individuals with special needs. The company's various software product categories include: autism, speech and language, severe disabilities, accessible software, activity books, teens, and testing. To learn more about SoftTouch and its products visit http://www.softtouch.com.
###