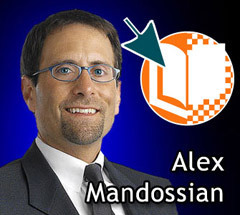 More than anything, this is a story of perseverance. Harricharran wasn't an overnight success, in fact, when he first started selling PowerPause, it could have been considered a failure. But he didn't give up. And eventually he was rewarded with a huge best-selling empire
Novato, CA (PRWEB) August 30, 2007
Alex Mandossian, one of the top-ten Internet direct marketers in America, has just posted an article on his web site titled "Book Marketing - Raise Your Prices and Sell More? Here's how!", where he details the story of author John Harricharan's successful repurposing of his eBook PowerPause. The full article can be found http://www.AlexMandossian.com.
Harricharan is a successful businessman, lecturer and author who took his lectures on the keys to wealth, success and happiness and repurposed them into an eBook that he sold online.
"From this eBook, Harricharan built an entire business," says Mandassion. "And through this exemplary case study, other authors will see that by repurposing - or turning one product or idea into many - they can do the same thing."
In this article, Mandossian details the evolution of PowerPause, from its initial idea to eBook and then how Harricharan repurposed his content in a wide variety of ways to ultimately create an empire from one book.
"More than anything, this is a story of perseverance. Harricharran wasn't an overnight success, in fact, when he first started selling PowerPause, it could have been considered a failure. But he didn't give up. And eventually he was rewarded with a huge best-selling empire," Mandossian said.
Upcoming articles will continue to address others ways to repurpose materials, as well tips for authors to harness technology and different target markets. Readers will learn:

How authors can start the process, even if they don't have a book yet.
Simple ways to flow from one repurposed package to another.
Many other quick and easy ways to repurpose content.
Why repurposing is so profitable (and how you can do to make the most money while taking the least amount of time)
Why customers want (and will buy) repurposed content in multiple forms. (In fact, if you don't offer your content in multiple ways, you're leaving money on the table and doing a disservice to your customers)
Why you have a responsibility to get your message out into the world in as many forms as possible.
To access the complete article series, visit http://www.AlexMandossian.com .
Alex Mandossian has consulted Dale Carnegie Training, NYU, Agora Publishing, Mutuals.com, Pinnacle Care, Strategic Coach, Trim Spa as well as thought leaders such as Jack Canfield, Vic Conant, Mark Victor Hansen, Les Brown and many others. He is the CEO and Founder of Heritage House Publishing, Inc.
More information can be found at http://www.AlexMandossian.com , and his Virtual Book Tour Secrets can be found at http://www.VirtualBookTourSecrets.com.
###