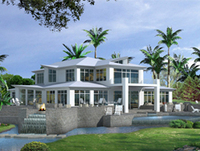 When you invest in Sky Beach Club
Mount Pleasant, SC (PRWEB) August 30, 2007
2007 continues to be a year of success and growth for Sky Beach Club, a luxury Caribbean real estate development on Eleuthera Island in the Bahamas. Nicknamed both a traveler's paradise and a real estate investor's dream, this exclusive community consists of 40 unique resort-style homes and villas.
Today, Sky Beach Club announced that Perry Parrigin has accepted the position of Food and Beverage Director with the luxury resort. Parrigin joins Sky Beach Club with 25 years of experience in the food and beverage industry, having spent the last seven years with the distinguished restaurant chain, Nobu, most recently as the General Manager of the Nobu at Atlantis Resort and Casino on Paradise Island, Bahamas.
Sky Beach Club Vice President, Michael Reardon said, "We are elated to have a person of Perry's quality join our Sky Beach Club team and I know Perry is equally excited to build our restaurants and concierge services from the ground up. His experience in the industry coupled with his industrious work ethic and outgoing personality makes him a natural fit for the resort. Owners and guests will truly enjoy getting to know Perry over the coming years."
Today's announcement follows a string of recent news from Sky Beach Club, including the resort's ground breaking earlier this summer.
Reardon explained that this is the perfect time for investors to learn more about Sky Beach Club. "Whether you are interested as an individual, corporation, or as part of a group of individuals, this is an opportunity to own a vacation property that is unlike anything else in the world. Never before has such a luxury real estate investment with a modern design been offered in the Bahamas," Reardon said.
"When you invest in Sky Beach Club," says Reardon, "you will own more than a rare piece of paradise; you will be a pioneer in an emerging high-end real estate market."
Each home is characterized by spacious suites, infinity edge pools and spas, enormous balconies and abundant glass. Those interested in learning more about Sky Beach Club and its Caribbean real estate investment opportunities visit http://www.SkyBeachClub.com.
About Sky Beach Club:
Sky Beach Club is both an exclusive traveler's paradise, and an investor's dream and for good reason. Sky Beach Club is located on one of the world's few remaining island destinations where commerce and tourism have not taken over. It's a place where absolute beauty, luxury and privacy are realized in every facet of an unparalleled, completely exclusive residential community. From its pristine pink sand beach that rises to an elevation of 135 feet to its crowning gem, a breathtaking Clubhouse with a 360-degree sea-to-sea view. Between those two points rests 40 unique resort-style homes and villas architecturally designed to complement the spectacular natural scenery with understated modern elegance.
Sky Beach Club is dedicated to showcasing, as well as preserving, Eleuthera's captivating natural beauty.
###