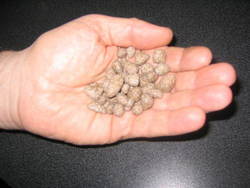 Toledo, Ohio (PRWEB) August 30, 2007
AquaBlok, Ltd. (http://www.aquablokinfo.com), manufacturers of innovative clay-based composite materials, is proud to announce the introduction of a new family of annular well sealant materials that benefit from the company's patented delivery system for bentonite sealant materials.
HolePlug annular sealants combines two well-established and proven technologies; zero-valent iron (ZVI) and bentonite to form a unique ability to help minimize the potential for cross-contamination of surficial ground water zones along annular spaces and also to minimize the potential for "rebound" - the post-absorption release of contaminants trapped by the bentonite seal in environmental monitoring wells. HolePlug is easy to handle/apply (See Figure 1 below) and is packaged in either 50lb. plastic pails or paper bags.
AquaBlok's patented composite particle consists of an aggregate core, coated in bentonite and amended with a small amount of zero valent iron treatment material.
Problem Statement
In constructing an environmental monitoring well, a low-permeability, hydraulic seal is required to minimize the potential for vertical transfer of contaminated ground water or surface water contaminants along the well's annular space. In addition, standard bentonite grout materials will absorb low levels of contaminants, only to release these constituents later. This can result in false positive readings causing significant added expense and time to monitoring programs. In addition, creating and maintaining a positive seal above the sand/screen interval is important to prevent transfer of contaminants such that pollutant migration does not contaminate adjacent aquifers.
What Makes HolePlug Better
Two important advantages are provided by Hole Plug product. First, bridging is minimized due to the more dense aggregate core of the bentonite particle (greater mass) and the characteristic delayed hydration time. Second, the reactive material contained in the HolePlug will both minimize the potential for contaminant rebound within an environmental monitoring well, but also provide some level of pollution prevention. The reactive nature of the amended sealant is such that organic compounds that partition into the sealant can be destroyed. Inorganic compounds, which tend to migrate along the preferred path of the boreholes or engineered structures, will also be effectively sequestered, thereby minimizing extended or cross-contamination
Impact/Reactivity of HolePlug with Groundwater
Independent lab tests were performed to assess the potential impact on groundwater chemistry from the use of HolePlug or standard HolePlug products. Leachability in a simulated well/annular environment was tested. Comparison was made to a control, where no sealant was used. The conclusion confirmed that HolePlug and HolePlug perform as well or better to other currently commercially available well sealant products.
Available Products and Pricing
HolePlug is available in either 50lb. plastic pails or paper bags and can be purchased in pallet quantities. For much larger quantity requirements, HolePlug products can also be supplied in FIBC bulk bags of approximately 2,500lb. size.
Pricing for standard bentonite HolePlug and amended HolePlug is substantially below equivalent bentonite pellets costs. Specific pricing is available upon request and is dependent on quantity purchased.
About AquaBlok, Ltd.
AquaBlok, Ltd. is a manufacturer of composite (clay-based) materials utilizing its patented coating and amendment approach. The company has a long history in the environmental industry and a range of products utilized in sediment remediation technologies. AquaBlok utilizes its delivery system in a range of other products including, pond and industrial impoundment sealing, as seep collars on piping, to construct cut-off walls in porous soil conditions, flood control applications (i.e. levee and dam protection), and to deliver organoclay-based materials. In addition, AquaBlok is a licensee of Halliburton's Bariod Division for the Baraclear® algae treatment product.
Media Contact: John A. Collins, General Manager ( 01) 419.385.2980
###