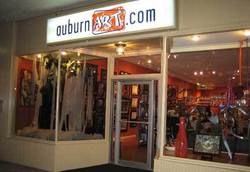 By beginning online, we were able to test different products at a very low cost
Auburn, Ala. (PRWEB) August 30, 2007
AuburnArt.com, the leading provider of Auburn University related online artwork, including: football pictures, prints, photos, paintings, blown glass, jewelry and pottery, announces the opening of its first retail location, during Auburn University's college football kickoff weekend.
Located next to Toomer's Drugs at the famed intersection of College Street and Magnolia Avenue (Toomers Corner), AuburnArt.com gives Tiger fans the ability to purchase "online" products in town while visiting during game weekends. Some of Auburn's most memorable moments captured through prints and photos will be available. Exclusive and one-of-a-kind pieces, not found online, will also be available in the new AuburnArt.com location.
"By beginning online, we were able to test different products at a very low cost," said Frank Brown, co-owner and founder of AuburnArt.com. "There were not enough products to fill a store when we started AuburnArt.com in 2001. The synergy between the 'click and mortar' business model allows us to cover a much larger geographic region while at the same time servicing our local clientèle."
Custom framed pieces are a distinctive feature of AuburnArt.com. Each print or photo is custom framed in our gallery and frame shop, The Villager, a 35 year old business, located in the heart of Auburn. Customers can take pride in knowing their new Auburn piece is constructed by Auburn men and women. A choice of size, mat color, and wood grain allow you to make your new Auburn print or photo compliment any decorating theme for the home, office, apartment or game condo.
"The amount of Auburn prints, photos and exclusive Auburn items is second-to-none," Brown said. "Auburn fans will get a chance to view our items 'gallery style' instead of what they have been accustomed to."
For additional information or to purchase Auburn Art, please visit us in the store or online at http://www.auburnart.com.
About AuburnArt.com: AuburnArt.com was created in 2001 when two Auburn grads found it very difficult to find great looking Auburn related art for their custom framing clientèle. In the hunt to fulfill their customers' wishes, some really great vintage photos were found along with some lost Auburn prints that were no longer in distribution. New Auburn artists were added to the collection to bring something fresh and unique to the mix of great Auburn memories and thus, AuburnArt.com was born.
###