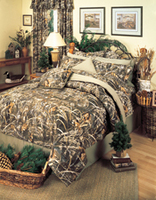 Your bedrooms are hidden from the rest of the house, so you can start a theme there and see if you like it before moving to the rest of the house
TULSA, Okla. (PRWEB) August 30, 2007
With hunting season just around the corner, hunters can spruce up their homes with camouflage bedding and décor.
Tony Brobst, president of The Camo Shop, offers tips and advice for people interested in incorporating camo bedding and décor in their homes.
"Camo bedding and décor is just one way to bring your pastime home," Brobst said. "If your wife isn't thrilled about the idea of hanging a deer's head over your bed, then you can turn to camo décor to get the look."
Millions of people enjoying hunting every year, and that may explain why camo bedding and home furnishings are becoming more and more popular. Brobst suggests starting with the bedrooms.
"Your bedrooms are hidden from the rest of the house, so you can start a theme there and see if you like it before moving to the rest of the house," Brobst said. "With camo bedding, you can make your bed the focal point of the room, and move out from there."
There are other ways to add camouflage to bedrooms aside from camo bedding. For hardwood floors, a camo rug can maintain the theme, break up the floor, and keep feet warm on cool mornings. Other accessories, like antler lamps and lighting, can add to that hunting lodge feel. The exceptionally ambitious can even add a camo ceiling fan.
"You just kind of have to test it out and see what works well," Brobst said. "Too much stuff can be overwhelming, but too little and you won't even be able to tell that you have a theme going on."
One can even add a hunting flair to the bathroom.
"Camo hand towels make a great accent to your regular bath towels," Brobst said. "That, plus a camo shower curtain or a camo toilet seat cover, can really add spark to your bathroom."
According to Brobst, the only real limits are your budget and imagination.
"You can turn your whole house into a hunting haven, or just create a themed bedroom and bathroom with camo bedding and home décor produects," Brobst said. "Really, it's all just about finding the right pieces to match your desires."
For more information about the Camo Shop, including a list of their full line of camo bedding and décor products, visit them on the web at http://www.TheCamoShop.com.
About Camo Shop
In business now for 6 years, The Camo Shop is headquartered in Tulsa OK. In our warehouse we maintain stock on most of the items that we sell for quick order fulfillment and shipping throughout the U.S. and Canada. We specialize in hunting camouflage merchandise for home décor (including camo bedding, lamps, rugs, drapes, etc), clothing and other miscellaneous items that enable the hunting enthusiast to celebrate their passion for the outdoors. Visit us online at http://www.TheCamoShop.com.
SEO press release and advertising by Xeal Precision Marketing
###