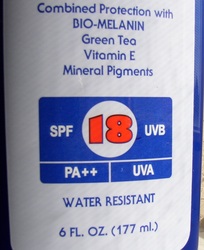 When I designed MelanSol, I wanted to let consumers know that SPF is only an indicator of UVB protection, which our label reflects
Panama City Beach, FL (PRWEB) August 31, 2007
Panama City Beach, FL- UVA ultraviolet radiation is just as harmful as UVB when it comes to causing skin cancer and premature aging of the skin in the form of wrinkles, sagging skin and sun spots. Up to now, sunscreens have not been required to formulate, test and label for UVA protection, leaving consumers to believe that their traditional sunscreen is protecting them from damaging UVA radiation.
With the recent announcement by the Food and Drug Administration (FDA) this is about to change. The FDA has new proposed standards for formulating, testing and labeling UVA protection for over the counter (OTC) sunscreen drug products.
These changes are expected to take at least 12 months to implement but if you want UVA protection that is 100 percent natural, you don't have to wait. MelanSol 100 percent natural moisturizing sunscreen will provide you with the UVA protection you need right now without any chemicals. MelanSol has already been tested according to the new FDA rules.
"I am very familiar with the test method I believe the FDA will be using. It is the Persistent Pigment Darkening Method (PPD)," says Peter Zahner, inventor of MelanSol. "We are glad that the FDA is in the process of adopting these new rules for testing UVA protection. This method produces very realistic UVA results."
"When I designed MelanSol, I wanted to let consumers know that SPF is only an indicator of UVB protection, which our label reflects," says Zahner. "We knew the importance of protecting against UVA radiation and made the decision to go ahead and test for UVA protection and put it on the label so consumers would know they were protected for both UVA and UVB radiation."
The FDA will use a system of labeling that runs from one to four stars. "We currently use a three plus system that is common outside the US," Zahner says. "As far as I know MelanSol is the only sunscreen currently being marketed in the US with a UVA rating on the label, which helps consumers buy Melansol ."
MelanSol contains primarily zinc oxide and some titanium dioxide in the form of natural mineral pigments, which tests have shown to provide protection over the full UVA and UVB spectrum.
MelanSol is a 100 percent natural biodegradable moisturizing sunscreen lotion made in US. It is also sold in Switzerland, the European Union, and Canada. The authorized US distributor for MelanSol is Oceana Naturals, LLC, Panama City Beach, Florida, via http://www.PureSunscreen.com.
For a free sample 10 ml sample of MelanSol SPF-18 email your name and address to Michael J Russ at mruss(at)puresunscreen.com. Quantities are limited-one per request.
###