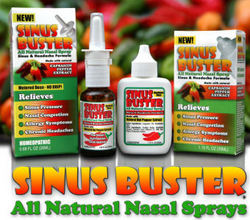 We were hesitant at first because we already tried a couple different pay per click programs and they all were pretty non-productive. But we gave Google Adwords a try anyway, and we saw definite results. Today our Google ads return three dollars in sales for every one dollar we spend, and we plan on increasing our budget for 2008
Albany, NY (PRWEB) August 30, 2007
When SiCap Industries introduced "Sinus Buster", the world's first hot pepper nasal spray more than four years ago, they began operations with a small ad campaign on Google. The fledgling manufacturer started with a mere ($20.00 daily budget), but today this successful company spends far more cash thanks to the power of Google Adwords. While many companies are tightening their ad budgets for 2008, SiCap Industries plans on increasing their Google budget thanks to a proven track record of successful campaigning.
Wayne Perry, president of SiCap Industries says advertising on Google was one of the best decisions his company has ever made, and he credits much of Sinus Buster's popular brand awareness with the distribution of Google Ads.
"We were hesitant at first because we already tried a couple different pay per click programs and they all were pretty non-productive. But we gave Google Adwords a try anyway, and we saw definite results. Today our Google ads return three dollars in sales for every one dollar we spend, and we plan on increasing our budget for 2008," says Perry.
"Google Adwords" is a (pay per click) advertising program aimed toward relevant content within popular web searches. For instance, a search for the term "Sinus Headaches", returns relevant non-commercial content along with ads that relate directly to your search. These ads generally appear on the right side, and at the top of search results. Google ads also appear on participating websites, and other search engines such as Yahoo. This unique internet ad system has proven to be a huge money maker for Google, and an even bigger money maker for internet savvy businesses.
For as little as $10.00 daily, any legitimate company can advertise their products and services throughout the web. Most importantly, the ads are directly targeted at consumers searching for related products and services, and Google works hard to keep the ads relevant for consumers.
"It's a perfect match for consumers and advertisers. Google's system allows advertisers to connect directly with customers. I also like the fact that Google is very particular about the content of their ads so you won't get a lot of rip off companies or unrelated content. For our company, the Google Adwords system is responsible for a respectable percentage of our company's growth so far this year," adds Perry.
And SiCap Industries credits Google Adwords for more than mere internet sales. According to Perry, Google's pay per click system is a powerful advertising tool that also drives consumers into retail stores by increasing brand awareness.
"I'm not so sure the old boys of advertising understand the true impact of these ads. It really doesn't matter if anyone clicks on them. What matters is how many times they are viewed. If you push your brand with your retailers in the ad text, the consumer is still getting the message even if he or she doesn't buy the product at that moment. But you can bet that when those consumers need your product they head for the nearest retailer carrying it," adds Perry.
###